Soledad O'Brien Tangles With Tony Perkins Over Whether Marriage Has Ever Been Redefined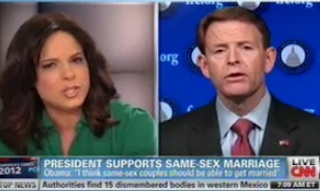 On Thursday's Starting Point, CNN's Soledad O'Brien got into a spirited tête-à-tête with Family Research Council president Tony Perkins over the ramifications of President Obama's announcement that he supports gay marriage. The two discussed whether allowing same-sex couples to marry would ultimately redefine the institution of marriage.
"When government takes a policy position on marriage, it has an effect," Perkins said.
O'Brien pressed him over what the consequences would be for gay marriage. Perkins said it went back to the 1960s with no-fault divorce and adoption.
"We've seen the consequences of that and have over 40% of children being born out of wedlock. We have a decline in marriage, the rise in cohabitation. The social costs of that are tremendous," he said.
"When government took a position, let's say, against the ban on interracial marriage it had an effect too, right? It brought legal marriage to blacks and whites," O'Brien noted.
Perkins disputed the basis of O'Brien's question.
"You're talking about redefinition," Perkins said. "There is no rational reason to keep people of different races that were of opposite sex to marry. They met the qualifications of the definition of marriage. What we're talking about here is a further redefinition of marriage…"
"But hasn't marriage been redefined and redefined?" O'Brien interjected.
"It's going to intentionally create environments where you have children growing up without a mom and a dad," Perkins argued.
"But we have environments where children grow up…" O'Brien countered. "Forgive me for interrupting, but we have environments already in heterosexual couples where they grow up without a mom or dad. You're certainly not arguing gay marriage is fine as long as the couples don't want to have kids because you will avoid that problem, kids growing up without a mom or a dad, or an older couple who aren't going to have kids?"
"There's no argument that those things have occurred and that the state of marriage in this country is problematic," Perkins conceded. "There's no argument there. What I'm saying is you look at the consequence, the cost do government as a result of that, the increased social cost. Why would we want to intentionally do more of that? The point here is public policy — what we set doesn't mean that everybody is going to reach that standard but we should set a standard that is best for society."
"Doesn't public policy follow culture? But it sounds to me like you're saying public policy sets culture. I would say culture maybe actually goes first and public policy follows?" O'Brien followed up. "Certainly if you're going to talk about equality and rights to sort of say, well, you know, I'm concerned about this issue, so we'll overlook the equal rights part of it. seems a little unfair at the least."
"Well, it's not an issue of equal rights," Perkins said. "Everybody has the same rights."
Watch the interview below via CNN:

Have a tip we should know? tips@mediaite.com