Soledad O'Brien Tells Mediaite How She Has Made Starting Point Appointment Viewing For The 2012 Election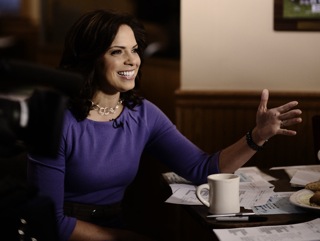 Last November, Soledad O'Brien promised viewers in a talk with Mediaite that Starting Point, the show she would assume the helm of at the beginning of this year, would be "a smart morning show that's fun to watch." Since the show debuted, O'Brien has made Starting Point appointment viewing for public officials and campaign spokesmen, a morning program fueled by an atmosphere of candid but never impolite disagreement and a sense of political unpredictability unique in its genre.

RELATED: Soledad O'Brien's Plan For CNN Mornings: 'Interesting People Discussing Interesting Topics'
From Mitt Romney declaring "I'm not concerned about the very poor" to Rep. Blake Farenthold this week arguing that teens being shipped illegally across the border by their parents "have a say" in that process, the six month run of the morning program so far has seen more than its share of prominent political minds stop by and speak their minds in unexpected– and for some campaigns, problematic– ways. Moments like Eric Fehrnstrom's comparing his candidate Romney to an Etch-a-Sketch toy are not synthetic but, O'Brien told us, by design, and the secret to getting a guest comfortable enough with the hard questions is research.
O'Brien feels confident that the show has developed a reputation for being a place where guests "know you've read their book, are aware of their legislation," and that, she noted, allows for a more in-depth talk. She likened it to talking about your hometown with a local: "It's like when people ask where I'm from, and I say I'm from Long Island. If they ask where in Long Island, I know they know the details and the conversation will be completely different than it would have been otherwise." And the research is the centerpiece of her approach to the show in a way that many argue gives it much more of a primetime feel, as her debates revolve around the details of campaign and political news while providing safe harbor for neither side.
However, O'Brien rejects comparisons to primetime, she told us. "I really approach it like a documentary– every documentary has to have that one moment that all the research leads up to, that moment where you ask for an answer to a contradiction. On TV, the time and research is limited, but it is the same idea." The approach yields a climate that can be tense for those that have some contradiction to explain or past comment to eschew, but O'Brien finds actually helps with getting guests to return. "No one has ever said I treated them disrespectfully or unprofessionally, that's why people come back," she explained, "But they know that I've read the book, I know what they have said publicly, and they will be asked about it. They can't get away with talking points."
That insistence on refusing to allow talking points and generalizations has resulted in some viewers to cry bias who catch isolated moments– for instance, on days she is grilling Breitbart head Joel Pollak over critical race theory or John Sununu refuses to answer questions on birtherism when it leads that week's news cycle.
O'Brien takes it as a badge of honor that she receives hate messages from both sides of the aisle, a natural reaction to a show where a Romney surrogate can leave with a heaping of explaining to do one morning and the head of the Democratic Party can have a talking point obliterated the next. Starting Point manages to do what CNN has attempted to accomplish for the past few years in the face of openly partisan competition: get its hands dirty with the more molten elements of the political news cycle without having a stake in either side, defining the news cycle many mornings without letting the news cycle define the slant of the show.
And O'Brien's pride in finding the balance between being nonpartisan and being human on the air shows in how she talks about the people that make for some of her most exciting interviews. Among those are Rep. Allen West, who notably refused to name names to O'Brien after he claimed there were avowed communists in the House of Representatives (he eventually settled for "communists" meaning the Progressive Caucus, though the comment continues to haunt him in interviews as recently as this week). "I like Allen West very much!" O'Brien told Mediaite, saying he was among those who, "if he called up and said 'I'm working on something important in Congress,' I'd connect with the bookers immediately."
As for who she wouldn't have on the show? "I don't think I've banned anyone from anything in my 25 years in television– I don't believe in banning– or maybe I didn't know I had that power!" she jokes. Anyone can be a good interview, she argued, comparing soliciting celebrity political opinions to talking to people on the subway: "you can ask anyone for advice on the subway and you could either get a really great restaurant recommendation or you could end up talking to a crazy person. A celebrity is just like any other person, and you can get some really great opinions from them. And the beauty of it is, at the end of the day, they have a vote just like you!" But being a reporter by nature and the show skewing political, her wish list for the future includes many political repeats: Gov. Mitt Romney and show regular Rep. Peter King, "but in studio this time."
O'Brien expects the political climate to change dramatically as the conventions approach and the election gets in full gear. She told us that with those changes will come a "constant tweaking" of the show's details– when panelists can jump into an interview, the timing and length of segments, etc. But half a year into this experiment, looking back on her goal last November to make the show smart and fun, O'Brien is pleased with the way things are going: "'A smart morning show that's fun to watch'? I'd give it an A on that."
CNN's Starting Point Airs 7-9 A.M. ET Monday-Friday.
—–
» Follow Frances Martel on Twitter
Have a tip we should know? tips@mediaite.com