Soledad O'Brien To Arguing Congressmen: 'With All Due Respect, Everyone In DC Speaks In Sound Bites'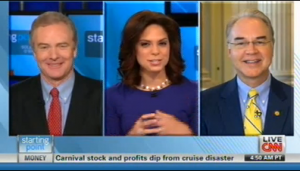 On Wednesday, CNN's Soledad O'Brien invited Congressmen Chris Van Hollen (D – MD) and Tom Price (R – GA) onto the show to discuss the vote on whether to raise the nation's debt ceiling.
O'Brien kicked things off by asking Price how he felt about the sentiment that the vote is a "charade" since, citing emails from the conservative group Club for Growth, it appears that "the decision has already been made" and "this is not a real vote."
RELATED: Sen. Harry Reid: 'I Think The Tea Party's Dying Out As The Economy's Getting Better Slowly'
"These aren't self-congratulatory press releases," Price explained. "What they are is drawing attention to the remarkable spending that is out of control here in Washington." All the Republicans need to get the debt under control, he added, is a willing partner on the other side of aisle.
O'Brien then quoted Senator Harry Reid, who, addressing compromise in Washington, said recently that he hopes "the Tea Party doesn't have influence in this next year, [like] they had in previous years." Van Hollen agreed with Reid, adding that the economy would be wrecked if the debt ceiling is not raised. He also accused Republicans in Congress of "wanting to have it both ways" where the debt and national budget are concerned.
Things grew increasingly heated after O'Brien asked the two to weigh in on a recent poll showing that support for Congress is at an abysmal 11 percent. Price accused his colleague of speaking in sound bites, prompting O'Brien to note that "everyone in Washington speaks in sound bites." No offense!
Van Hollen shot back that Republicans in Congress are impeding the country from paying its debts, essentially making us "worse than Greece."
Watch what happened, via CNN:
Have a tip we should know? tips@mediaite.com