Soledad O'Brien To Jeb Bush, Jr: Is GOP Losing Hispanic Support Because They Have The 'Wrong Message'?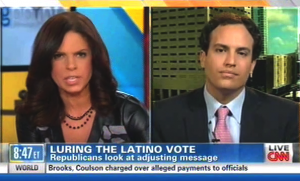 President Obama won overwhelmingly with Latino voters two weeks ago, and since then the GOP has engaged in a national conversation over how to reach out to that voter demographic. Jeb Bush, Jr. appeared on CNN this morning to talk with Soledad O'Brien about what the GOP can do in the future to be more appealing to the Latino community.
RELATED: Radio Host Rants Against GOP Hispanic Outreach: They're Mexican 'Socialists' Who Come To 'Plunder' U.S.
Bush said that the GOP "didn't get the message out" on immigration and the economy as effectively as the Democrats did. O'Brien questioned his assumption, saying that she's spoken with many Republicans about immigration and "for lots of Latinos" there was a sense that the Republican party was simply giving them the "wrong message."
O'Brien added that it was not just the message, but the tone, bringing up how Obamacare may have been good for the Hispanic community and the Republican pushback against it may have gone too far. She asked Bush if the Republican party is able to have a big tent that includes moderates, evangelicals, and tea partiers, and can reach out to all of them. Bush touted Republicans like Susana Martinez and Marco Rubio as the future of the GOP, while criticizing Romney for his poor job at reaching out to the community.
O'Brien brought up Rubio's recent comment at GQ on the age of the earth, suggesting it felt like he wanted to give an answer that would appease too many constituencies at once. Bush affirmed that the Republican party needs to emphasize not just family values, but it has to be a "pro-science and pro-technology party."
Watch the video below, courtesy of CNN:
—–
Follow Josh Feldman on Twitter: @feldmaniac
Have a tip we should know? tips@mediaite.com
Josh Feldman - Senior Editor