Reince Priebus Tells Soledad O'Brien 'Santorum Is Right' To Not Care About Unemployment Rate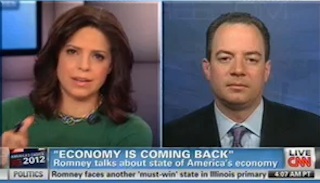 CNN's Soledad O'Brien spoke with Republican National Committee chair Reince Priebus on Starting Point Tuesday morning and questioned him over Santorum's recent comments about unemployment, which she characterized as a gaffe, despite Slate's Dave Weigel claiming the Republican hopeful was taken out of context.
O'Brien played BuzzFeed's footage of Santorum saying he didn't care what the unemployment rate's going to be. "Doesn't matter to me," Santorum said. "My campaign doesn't hinge on unemployment rates and growth rates! My campaign doesn't hinge on unemployment rates and growth rates. There's something more foundational that's going on here."
"And then he clarified with this," O'Brien added, playing an additional clip.
"Of course I care about the unemployment rate!" Santorum exclaimed. "I want the unemployment rate to go down. But I'm saying my candidacy doesn't hinge on whether it goes up and down. Our candidacy is about something that transcends freedom. It's not about Governor Romney's idea that he's going to fix the economy."
"Do you think that part of the stumbles that he's had of late and maybe not even just of late is that as the campaign trail is so long there's more time for people to not only get sort of tired but have to reframe and re-contextualize their comments?" O'Brien asked.
"You know, I don't think so," Priebus opined. "Because if you're the nominee, obviously the intensity is only going to be a lot stronger and you're still going to have to campaign throughout the spring and the summer and the fall. And so I think it's just more scrutiny when you become the nominee, so if anything, I just think it gets even tougher."
"But I think that Rick Santorum's right," he acknowledged. "This election is about big things. It's about liberty and freedom. And we've got the two-year anniversary of ObamaCare, that's coming. This is another promise that Barack Obama made that prices would go down and access would go up, and reality we all know that actually prices are going up, companies are taking waivers, that Obama care isn't what everyone thought it would be and in fact it's the opposite and it isn't working and it isn't improving anything. "
Watch Priebus agree with Santorum about the unemployment rate below, via CNN:

Have a tip we should know? [email protected]