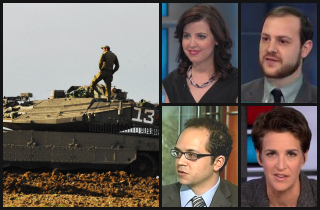 As Israel continues to inflict mass death and trauma on Gaza, influential liberal media figures are mostly staying silent.
MSNBC reporter Adam Serwer has said conspicuously little since the offensive began over three weeks ago. Because the causes of this conflict are so deeply bound up with US political conditions — American taxpayers supply the Israeli government $3.1 billion in annual military aid, and the Obama administration has just authorized shipping over an additional round of munitions — Serwer's near-total avoidance of the topic seems curious. Having first rose to prominence as a "civil liberties blogger" at the now-defunct American Prospect magazine, there are a multitude of angles from which Serwer might cover Gaza that would accord with his longstanding beat.
Asked to explain this confounding editorial judgement — in the past two weeks he has written at least four pieces on Obamacare — Serwer told me the following:
I'm proud to say msnbc has featured plenty of in-depth coverage of this issue, but I haven't written about it except on weekend duty (http://www.msnbc.com/msnbc/netanyahu-hamas-rejected-violated-ceasefires) because I typically don't cover foreign affairs. I haven't written about important developments in West Africa, Libya, Ukraine, Iraq or Syria at all.
This doesn't square with a review of Serwer's record. Since arriving at MSNBC from Mother Jones in 2013, Serwer has written on issues pertaining to the Afghanistan war, the aborted US military intervention in Syria, Barack Obama's drone strike program, the international fallout from Edward Snowden's NSA disclosures, the ongoing turmoil in Iraq, and more — all subjects with clear "foreign affairs" dimensions.
And anyway, the premise that one need have some special expertise to comment on the political implications of Israel's current attack is manifestly absurd; no one suggested such during the Iraq War or Libyan intervention. Both were stories with obvious import relative to domestic U.S. discourse.
Accordingly, a political reporter like Serwer could explicate the Gaza crisis for MSNBC's audience in all manner of ways. Democratic Party stars like Elizabeth Warren, Hillary Clinton, Andrew Cuomo, Nancy Pelosi, Cory Booker, and many others have declared their unflinching support for Israel — certainly a major political story. Why do putatively "progressive" politicians so fervently back a foreign government's bombardment of its besieged, blockaded neighboring territory? Maybe that's worth exploring.
Similarly, Serwer's fellow MSNBC journalist Irin Carmon has been quiet on the topic, limiting her Twitter analysis thus far to musings about her Israeli family's "bomb shelter selfies," as well as this bit of incisive commentary: "Basically the solution is for Israelis and Palestinians to leave nice reviews of each other's beachfront properties."
A third MSNBC colleague, Benjy Sarlin, has also virtually ignored Gaza — except to tweet out the odd defense of Israel's conduct. (In the first weeks of the assault, Sarlin approvingly referred his Twitter followers to analyses by neoconservative pundits Jeffrey Goldberg of The Atlantic — a former Israel Defense Forces prison guard — and Philip Klein of the Washington Examiner.)
On the other hand, MSNBC anchor Chris Hayes isn't generally regarded as a foreign affairs specialist; his professional work focuses largely on domestic and economic policy. Nevertheless, Hayes has produced far-and-away the network's best coverage of the Gaza conflict, exclusively interviewing an American teen beaten by Israeli police, allowing former contributor Rula Jebreal to voice on-air criticisms regarding MSNBC's alleged lack of Palestinian perspectives, and so forth.
Worst of all, perhaps, has been Rachel Maddow, who's ignored Gaza to the point of absurdity, engendering widespread scorn on Twitter and elsewhere.
Despite her reputation as an astute analyst of U.S. foreign policy (she wrote an entire book on it) Maddow has allocated substantial airtime over the past 25 days to such topics as "Impeachment threat electrifies Dem base," but almost none to Gaza. Between July 26 and July 31 — the period of Israel's most intense escalation yet — she covered the conflict not even once, according to her MSNBC show page. Wondering if Maddow could ever be impelled to scrutinize Israel, Twitter user Jonathan Cohn sardonically asked, "What if the siege on Gaza were really just a major traffic jam caused by Chris Christie?"
A plausible theory as to why Maddow has so studiously avoided mentioning Israel's assault is because the story doesn't quite "electrify Democrats" — in fact, it amplifies huge, glaring divisions among Democrats. Countless self-described "progressives" are fervently committed to backing Israel's every action, no matter how many hundreds of children it kills, because they have a pre-existing devotion to the Jewish state.
Broaching the subject would likely create fissures among Maddow's viewership, so rather than delve into bothersome complexities, or emulate the approach of British television anchors — who sometimes actually challenge the Israeli government's spurious talking points — she instead opts to continue dishing out the standard "look over there at how crazy the GOP is" red meat.
— —
>> Michael Tracey is a journalist whose work appears in VICE, Al Jazeera America, The American Conservative, and other publications. Follow him on Twitter.
This is an opinion piece. The views expressed in this article are those of just the author.