Something You Might Have Missed: The Wire Was Quietly Added To HBO On Demand On Monday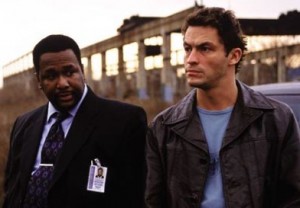 For years, the only way to watch HBO's The Wire was either on DVD or through HBO's scarcely-available HBO GO online platform. On Monday, this all changed. HBO quietly added the first four episodes of The Wire to its slate of offerings on HBO On Demand. This explains the joyful renditions of "The Farmer in the Dell" you've heard whistled at work today.
Four episodes of a television show that only netted two Emmy nominations during its five-season run (for writing, in 2005 and 2008) may not seem like a lot to the uninitiated, but the show has an insanely rabid following, and an even more-passionate group of proselytizers who urge everyone they know to watch the show. There's good reason for this. On review aggregation site Metacritic.com, the show has an average user rating of 9.64 (out of 10). Tim Goodman of The San Francisco Chronicle called it, "an astonishing display of writing, acting and storytelling that must be considered alongside the best literature and filmmaking in the modern era." Grantland's Bill Simmons wrote that The Wire is, "the most important television show of all-time."
This isn't meant to be another fluff piece about how awesome the show is, but it had, up until Monday, required some degree of effort to watch — borrowing DVDs from friends, hooking up the laptop to the TV to watch it on HBO GO, mailing back envelopes to Netflix to get new episodes. Part of the frustration for The Wire devotees was that it wasn't available on demand or via Netflix streaming, whereas other HBO favorites like The Sopranos felt like they'd been floating inside the On Demand universe since they went off the air.
An HBO spokesperson wasn't available to comment on the release schedule going forward, or why it took so long to put the show on the On Demand slate. And, for now, just the first third of the first season is available to watch at the press of a button (with more likely on the way over the next several months, assuming it follows the path of other HBO On Demand releases). But the fact that HBO did this at all is noteworthy. Fans of the show can now go back and watch an episode on a whim, while those who have been meaning to start watching once the show gets to the top of their Netflix DVD queues can now use that space for The I.T. Crowd instead.
At long last, The Wire has been put on demand. We will gladly consider this our holiday gift from HBO.
Have a tip we should know? tips@mediaite.com