'Sometimes the Crazies Bite': CNN Shows Undercover Video of Democrats Plotting Trump Protests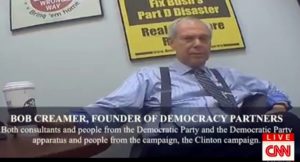 After a video from provocateur James O'Keefe made the rounds of conservative media throughout the day, CNN lent Project Veritas a large bit of credibility when it covered it at the beginning of the 8 PM hour tonight.
The video shows a couple of Democratic operatives plotting to go to Donald Trump rallies and initiate violence in an effort to demonize Trump and his supporters. It has led to one of them resigning and another being fired.
One person could be heard on the tape saying "sometimes the crazies bite, and sometimes the crazies don't bite when they are outside the rally."
Another comment on the tape had someone saying "Trump is a Nazi" and that you need to try to to get them to punch you. Mainly, the way it was described on the tape, the goal was to get the media to cover the violence at the rallies.
"The media will cover it no matter where it happens — initiating the conflict," the operative can be heard saying. "By having leading conversations with people who are naturally psychotic. I mean honestly, it is not hard to get some of these assholes to pop off. It is a matter of showing up at the rally."
According to CNN, both the DNC and Hillary Clinton have denied having anything to do with any incitement of violence. Also, it was pointed out that this didn't show any actual proof of any of this happening, more just a theory. Host Anderson Cooper and correspondent Drew Griffin also highlighted O'Keefe's past history of criminal activity and debunked videos.
As the segment aired, O'Keefe celebrated on Twitter, pointing out that Cooper was defending him.
.@andersoncooper is defending us on CNN as people in the background hold up Project Veritas signs. You've done this, social media!!! pic.twitter.com/yYiXJFfe5A

— James O'Keefe (@JamesOKeefeIII) October 19, 2016
Watch video of the segment above, via CNN, and the undercover video, via Project Veritas.
[image via screengrab]
–
Follow Justin Baragona on Twitter: @justinbaragona
Have a tip we should know? tips@mediaite.com