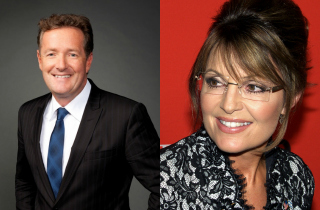 After former Alaska Gov. Sarah Palin wrote on her Facebook yesterday that Fox News had canceled all of her scheduled network appearances during the Republican National Convention, CNN host Piers Morgan told Politicker that he'd be glad to have her on his show instead.
Wednesday evening, he took to Twitter to invite Palin on his show: "If Fox don't want you tonight @SarahPalinUSA – come on my show. Be happy to talk about @SenJohnMcCain with you," he wrote.
Politicker asked him about his attempts to get her on the show: "I'm serious, if she's fallen out with Fox, I'd love to get her on. It's the one reason we haven't had her since I've been on air, because of her contract with Fox," Morgan said, referring to her ongoing exclusivity contract with Fox News.
"Clearly, if she's had an issue with them and can now do us, I'd love to interview her," he added, concluding that "I see a chink in the armor."
Unfortunately, it doesn't seem like Morgan will get that chance anytime soon. Fox told us yesterday that "We look forward to having Governor Palin back as soon as we can," and now that armor chink has been fixed, seeing as how she appeared on the network earlier today.
As one Fox spokesperson told New York earlier today: "We look forward to having a long and beneficial relationship with the Governor."
Sorry, Piers. We're sure it would've been a fun interview.
[h/t Politicker]
— —
>> Follow Andrew Kirell (@AndrewKirell) on Twitter
Have a tip we should know? tips@mediaite.com