Sorry, Witch Fans: Gossip Cop Reports That Christine O'Donnell Will Not Be Dancing With Any Stars This Season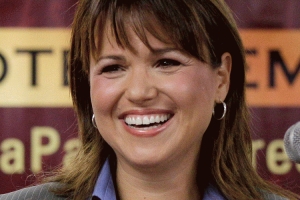 Well, it looks like we won't get to see a sexy, winking dance set to Screamin' Jay Hawkins' "I Put a Spell on You" starring Christine O'Donnell after all (seriously, you know this would have happened). Our friends at Gossip Cop have gotten the exclusive confirmation that O'Donnell will be sitting out this season of Dancing with the Stars. Damn. Now I guess I won't watch Dancing with the Stars.*
*That statement has nothing to do with Christine O'Donnell being on it and entirely to do with the fact that it's Dancing with the Stars.
Why was this even a question? Besides the fact that, well, of course Christine O'Donnell would end up on that show, the former senatorial candidate stoked guesses by going on Facebook last week and asking her fans if she should take the gig. She even got a vote of confidence from the mother of one of last year's biggest dancing faves when Sarah Palin offered her support before the last season was even up. But, just like the last time O'Donnell received the Palin seal of approval, it looks like it hasn't worked out.
For those of you interested in who the real contestants will be, ABC will give a special announcement during tonight's episode of The Bachelor which, of course, means that fans of DWTS will be forced to watch that entire show with the cast not revealed until the very last minute even though they keep promising the whole time that it's "coming right up!"
God, I love reality television.
(h/t Gossip Cop)
Have a tip we should know? tips@mediaite.com