Sotloff Family: Obama Admin 'Bullied and Hectored' Us While We Tried to Save Steven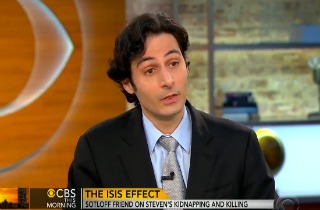 Barak Barfi, spokesman for the family of beheaded American journalist Steven Sotloff, claimed Wednesday that the Obama administration "bullied and hectored" the Sotloff family as they tried to rescue their son from terrorist captivity.
On CBS This Morning, Barfi was asked if the Sotloff family attempted raising ransom money to send to the terrorist network ISIS in exchange for Steven's safe return to the U.S.
"We had meetings with the administration," Barfi said. "The family sat with the National Security Council officials. And basically he (an official) bullied and hectored them (the family), and they were scared. He had no business…"
Asked how exactly the Sotloff family was bullied, Barfi said the unnamed official was "a marine," not a lawyer for the Justice Department, and shouldn't have been offering legal counsel. "He's a counterterrorism specialist. That is what he should be talking about," Barfi said. "And then after they had these meetings, I sat in other meetings with mid-level state department officials and the FBI and I basically heard the same thing. I tried to come up with creative solutions about how we can get around the law. I said, well how do you know that the group holding Steve is a terrorist organization? 'We know,' they said. Or, how would you know if we tried to transfer money? 'The banks wouldn't allow it.' They shot us down at every opportunity."
The New York Times reported earlier this week that the family of James Foley, another American journalist executed by ISIS, tried raising ransom money to save James but that the Obama administration essentially blocked them from doing so.
Mediaite has requested comment from the White House.
Barfi added in the interview that the Sotloff family "didn't have a very good relationship with the administration." In a pervious interview, Barfi charged the Obama administration with using both Steven and Foley as "pawns."
Watch via CBS:
[Photo via CBS/screen grab]
— —
>> Follow Eddie Scarry (@eScarry) on Twitter
Have a tip we should know? tips@mediaite.com