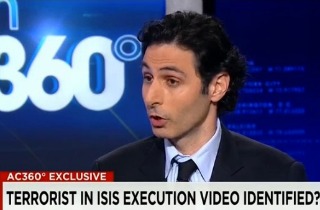 A spokesman for Steven Sotloff's family on CNN Monday accused the Obama administration of using the death of two American journalists as "pawns."
The U.S. recently confirmed the authenticity of video recordings of the beheadings of Sotloff and James Foley by the Islamic terrorist network ISIS.
Barak Barfi, a close friend and acting spokesman for the Sotloff family, told Anderson Cooper that the relationship between the administration and the family has been "very strained" after Sotloff's execution was made public.
"We do not believe they [the administration] gave the cooperation we needed," Barfi said.
Citing a Wall Street Journal report, Barfi said the administration and the "intelligence community" are "enmeshed in a larger game of beuaurcratic infighting" and that Foley and Sotloff "are pawns in that game."
Asked how the two men are being used as "pawns," Barfi said, "People are talking about the torture that some of these hostages have suffered… that's just not fair to them. They [the families] need time to heal."
Barfi did not elaborate further.
He said the Sotloff family made "one simple request" of the Obama administration after Sotloff's death but that the request was "rebuffed." He also did not reveal what the request was, saying that it might endanger other ISIS hostages.
"The administration could have done more," Barfi said. "They could have helped us. They could have seen them [the Sotloff family] through."
In statements, President Barack Obama has denounced the executions of Sotloff and Foley and said military action against ISIS will be intended to "degrade and destroy" it.
Watch via CNN:
[h/t Politico]
[Photo via CNN/screen grab]
— —
>> Follow Eddie Scarry (@eScarry) on Twitter
Have a tip we should know? tips@mediaite.com