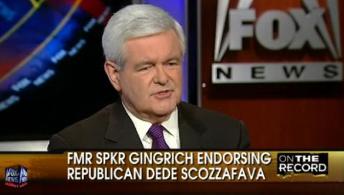 We've written about the hotly contested Congressional race in New York's 23rd district, in which many high-profile Republicans are endorsing the third party candidate over the Republican choice.
The most high-profile Republican endorsing the GOP choice, Dede Scozzafava, is Newt Gingrich, and he defended his decision On the Record with Greta Van Susteren last night.
Here's how Van Susteren introduced the issue on Fox News last night: "You're getting heat from Glenn Beck and others because you have endorsed the Republican candidate," she said, before moving away from colleagues and citing Sarah Palin, Gov. Tim Pawlenty and other political figures. Said Gingrich:
I just find it fascinating that my many friends who claim to be against Washington having too much power, they claim to be in favor of the 10th amendment giving states back their rights, they claim to favor local control and local authority, now they suddenly get local control and local authority in Upstate New York, and they don't like the outcome.
Beck didn't just give Gingrich some "heat," he had the third party candidate, Doug Hoffman, on his show just a few hours before Gingrich's appearance. "They can vote for principles or they can vote for party," said Beck as he described the race.
With Gingrich hinting he might run for President in 2012 (Michelle Malkin says "no thanks" because of Scozzafava), these shots at potential political rivals take on extra meaning: "I say to my many conservative friends who suddenly decided that whether they're from Minnesota or Alaska or Texas, they know more than the Upstate New York Republicans – I don't think so."
And here's a good shot that has a couple meanings. When Van Susteren asks about Scozzafava's socially liberal beliefs, Gingrich says they are "about where Rudy Giuliani was when he became Mayor."
We probably won't see Gingrich on Beck's show any time soon, but if he begins getting asked about the race in prime time again, but on Bill O'Reilly's or Sean Hannity's show, it could make for an interesting discussion with a traditionally agreeable guest.
Here's the NY-23 part of the interview:


—–
» Follow Steve Krakauer on Twitter
Have a tip we should know? tips@mediaite.com