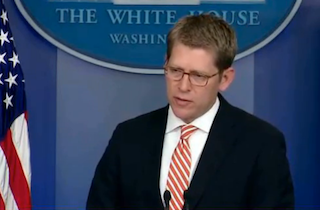 Sometime soon, you may not be hearing the following six words in a row:
"White House Press Secretary Jay Carney…"
That's because — according to my reliable sources — Mr. Carney will resign in the spring. This comes on the heels of a Daily Caller report three days ago suggesting as much. An exact time is still fluid, as Carney is still in the negotiation stage of his next job. Whatever that position eventually is, it will be a considerable step down in terms of degree of difficulty…because being a White House Press Secretary is arguably one of the toughest white collar jobs in the country.
It's a job that includes fielding a barrage of questions from a press corps five days a week whose sole mission is to seemingly make you contradict your boss and/or force you to lose your cool with the cameras rolling. It's also a job that keeps track of numbers like this: As of June of last year, Yahoo News stated Carney has responded in some variation of "I don't know" over 1,900 times since his first day on the job. Yahoo also reported that Carney had sidestepped a question an estimated 9,486 times. Talk about scrutiny.
It's also a job where in certain instances, invalid truths must be spun… and a thankless one when you're called a liar on a daily basis. And it isn't a distinction relegated to press secretaries on one side of the aisle.
Holding this position also requires fierce loyalty to the President—even during the kind of brutal stretches like the one President Obama is currently enduring. But given that the last two Presidents each had four or more press secretaries, and Carney is only Mr. Obama's second, no one could say the 48-year-old Yale graduate is jumping ship any earlier than most of his predecessors.
So when Carney does step down, where does he go next?
The lazy answer being offered up is to a lucrative gig at MSNBC. But when you think about it, Carney going to that network would truly be a waste of talent. As we've seen in the hundreds of daily pressers Carney has held, he clearly enjoys sparring with those who fence him most (particularly ABC's Jonathan Karl and Fox's Ed Henry). To listen to him agree with everything Chris Matthews says or hear him finish Rachel Maddow's sentences would be an unmitigated bore. And if you're Carney, do you really want to follow Robert Gibbs as press secretary, only to follow him again to 30 Rock?
Instead, Carney to CNN absolutely makes sense…particularly in an election year and during a time the network is beefing up its political resources and content (Crossfire 2.0 would be a perfect fit, for example). It should also be noted that Carney is familiar with the Time Warner family, having last served as Time magazine's Washington Bureau Chief in 2003. A move to Fox would make for great TV as well (Hannity & Carney, anyone?), but not something that should remotely be taken seriously…Fox already has one former press secretary on its payroll (Dana Perino). As mentioned, so does MSNBC. CNN currently does not.
So why leave the White House besides the stress that goes along the job? Well, while the current salary of $172,000 per year is nice…it doesn't get one very far in the real estate market in Georgetown. Carney and wife Claire Shipman (ABC News) also have a son and daughter who may want to be a Hoya one day. Cost of tuition per year right now? $116,000 per year for the two to attend. That said, expect a perfunctory book deal for the former writer as well.
The need to earn more while Carney's visibility is still high—combined with seeing the writing on the wall (particularly as the President officially enters lame duck status after Democrats lose control of the Senate in November)–is likely in his thought process right now. And given the recent history of press secretaries burning out in three years of less (the last to go longer than three was Mike McCurry under President Clinton, who held the job for three years and eight months from December of 1994 to August of 1998), Carney—who just passed the three-year mark in February—will simply be continuing a trend.
Since McCurry 16 years ago, there have been eight press secretaries, making the average tenure more in the two year range. Of those eight, four of the last five have gone on to work in cable news (Ari Fleischer to CNN, the late Tony Snow to CNN, Dana Perino to Fox, Robert Gibbs to MSNBC). The lone exception is Scott McClellan (Bush 43, 2003-2006), who apparently declined to forego personality-transplant surgery and therefore wasn't seriously considered by any of the aforementioned networks.
Jay Carney is confrontational.
His critics call him cunning and condescending.
His supporters say he knows how to throw a punch.
In other words, Carney would be perfect for cable news.
With the midterms coming up, according to my sources, expect to see him sparring on a television set…
And not from behind a podium.
UPDATE — May 30, 2:10 p.m. ET: Lo and behold, Jay Carney is stepping down.
— —
>> Follow Joe Concha on Twitter (@ConchaMedia)
This is an opinion piece. The views expressed in this article are those of just the author.