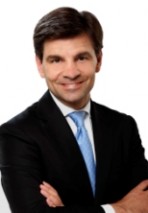 Last month we reported This Week anchor George Stephanopoulos was the leading contender to get the Good Morning America job opening up as Diane Sawyer takes over on World News.
Now sources tell Mediaite there may be a knot in the plans – Stephanopoulos would have to vacate the This Week job if he takes the GMA anchor spot.
From a purely logistical perspective, this makes sense. If Stephanopoulos were to anchor Monday-Friday for two hours each morning from New York, it would be near impossible to also anchor an hour in D.C. on Sundays. But two sources at ABC News say Stephanopoulos wants to keep the This Week job, as the harder news role continues to make dents in the ratings lead of Sunday morning leader, Meet The Press.
An ABC News spokesperson tells Mediaite, "We're not going to discuss any speculation about any kind of decision until a decision is made."
When we discussed potential replacements for Sawyer in September, we gave the best shot to current GMA anchor Chris Cuomo. If staying at This Week becomes a sticking point for Stephanopoulos, it could help Cuomo's chances.
Of course, if Stephanopoulos leaves and takes the GMA job, that means ABC will be tasked with finding a replacement at This Week as well.
The New York Post reports on another angle to the story – whether Charlie Gibson wanted Sawyer to take over his position:
"He wanted George to get the job," said one source at the network. "He was shocked when he learned Diane got it, and he was really angry that she stole his thunder. As soon as she was named, it was all about Diane."
There are denials from both Gibson and a spokesperson in the piece. Also, an ABC News spokesperson tells Mediaite, "It was Charlie's decision to retire and he respected that any decision about his replacement was David Westin's to make. He's delighted that Diane is taking the chair, not just because he respects and admires her but also because he sees it as a sign of the strong commitment the news division is making to World News."
—–
» Follow Steve Krakauer on Twitter
Have a tip we should know? tips@mediaite.com