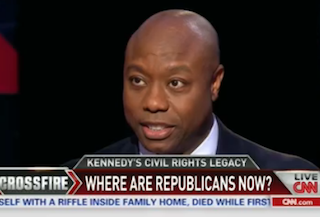 By a quirk of political circumstance, South Carolina will have two incumbent senators up for re-election in 2014. The senior Senator Lindsey Graham (R-SC) will be running for his third term. And in addition, Sen. Tim Scott (R-SC) will run to complete the final two years of former Sen. Jim Demint's term after he was appointed to that seat by South Carolina's Republican Governor Nikki Haley.
Asked by Crossfire's Van Jones if he would be supporting Graham in the upcoming midterm election, Scott would only say that he will be "working really hard" for Tim Scott.
"I am up for reelection next year myself," Scott reminded the group. "I'm going to make sure that Tim Scott gets out, and going to allow for all the other folks on the ballot to represent themselves very well. But I'm going to continue to work hard for my election."
"So, no endorsement for Lindsey tonight?" Jones pressed.
"I'm certainly going to be working really hard for Tim Scott's reelection," he responded.
This opened the door for Sen. Ben Cardin (D-MD) to point out that when Democrats have primaries, it's because they have "different views" and not because of a "fear that the tent is so small."
"39 Democrats broke with the president on Obamacare" Scott shot back, "because they were in fear of their elections. The bottom line is simply this: that for us to sit here and pretend that there isn't infighting in both parties is to look at the glass as if it's a coffee cup or something. It's just ridiculous. There's infighting everywhere."
Graham is one of several Republican incumbents in danger of being "primaried" from the right by opponents who don't think they have acted sufficiently conservative enough.
Watch video below, via CNN:
[h/t BuzzFeed]
[photo via screengrab]
— —
>> Follow Matt Wilstein (@TheMattWilstein) on Twitter
Have a tip we should know? [email protected]