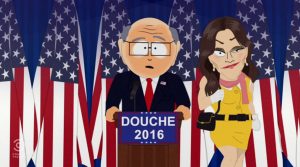 It would seem that the creators of South Park had to do a lot of last minute scrambling to account for Donald Trump's historic upset victory in the 2016 presidential election.
Wednesday's new episode was originally titled "The Very First Gentlemen," in reference to former president, Bill Clinton. After his wife Hillary Clinton was surprisingly defeated on Tuesday, the episode was re-written and given a new title of "Oh, Jeez" to reflect the catchphrase of the show's Trump stand-in, Mr. Garrison.
The episode begins with stunned election observers watching Garrison give his victory address to the nation. "This isn't how it was supposed to happen," Randy Marsh screams as Garrison speaks under the influence of Member Berries.
"The people have spoken. Just as J.J. Abrams did with Star Wars, I will make this country great again!" Garrison said with Caitlyn Jenner at his side. "All my efforts this past week have paid off. And now, let's begin… f*cking them all to death!"
This didn't mean the end for Clinton though. The season's main storylines came together when the former secretary of state approaches Gerald Broflovski and requested his help to deal with the "stolen" election. As for Clinton's husband, the show made an obvious reference to his sexual misdeeds in the past by having him talk to the South Park community about their problems alongside Bill Cosby.
"Hell hath no fury like a woman scorned," Clinton says at the end of the episode. "Women are sick of our shit, son."
[Image via screengrab]
— —
>> Follow Ken Meyer (@KenMeyer91) on Twitter
Have a tip we should know? tips@mediaite.com