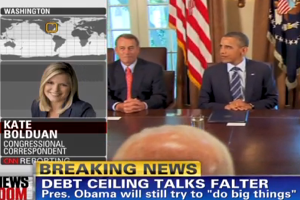 In recent days there was much talk that President Obama and Speaker of the House John Boehner were beginning to find common ground on the deficit issue, and were moving towards a "grand deal" that would have saved more than $4 trillion over the next decade. However, late last night it seemed Boehner had an epiphany: such a huge deal may have been too ambitious to actually get any Republican votes, and now he insists only a smaller compromise will be possible.
In a statement, Boehner explains:
"Despite good-faith efforts to find common ground, the White House will not pursue a bigger debt reduction agreement without tax hikes. I believe the best approach may be to focus on producing a smaller measure, based on the cuts identified in the Biden-led negotiations, that still meets our call for spending reforms and cuts greater than the amount of any debt limit increase."
In response, the White House issued their own statement and a promise to continue to push for a larger deal:
"The President believes that solving our fiscal problems is an economic imperative. But in order to do that, we cannot ask the middle-class and seniors to bear all the burden of higher costs and budget cuts. We need a balanced approach that asks the very wealthiest and special interests to pay their fair share as well, and we believe the American people agree."
Given that tax increases were likely too difficult for Republicans to swallow, and since Democrats were strongly opposed to significant cuts in Medicare or Social Security, the likelihood of a "grand deal" may have been wishful thinking. Instead, Boehner is now leaning towards a deal closer to $2 trillion in savings, while the White House doesn't seem eager to give up on a bigger deal just yet.
Watch the clip from CNN below reporting on the news:
Have a tip we should know? tips@mediaite.com