Speaker Boehner Blasts Obama During House Speech: 'Do We Have To Fight About Everything?'
Boehner Blasts Obama During House Speech: 'Do We Have To Fight About Everything?'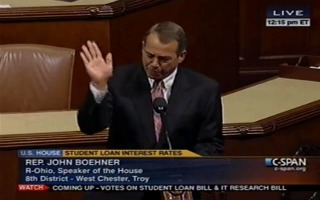 House Majority Leader John Boehner (R-OH) delivered an impassioned speech on the House floor on Friday calling President Obama's recent attempts to politicize the extension of lower rates for student loans "silly." He said that the argument alone was "beneath the dignity of this House" and asked if because it is an election year, "do we have to fight about everything?"

RELATED: John Boehner: 'America Can't Live For Four More Years With Barack Obama As President'
"How in the world did we get here," Boehner began. "A fight being picked over an issue that everyone knew was going to be resolved. A fight being picked over an issue that there is no fight over."
"Democrats, five years ago, put this clip in the law that would require interest rates to more than double on July first. I don't know why they did it, but they did it," Boehner continued. He said that no one wants to see those rates go up, and there is broad bipartisan agreement that low rates should be extended.
"Why do people insist that we have to have a political fight on something where there is no fight," Boehner continued. "My god, do we have to fight about everything?"
"Now, we're going to have a fight about women's health. Give me a break," Boehner said to applause.
This the latest plank in the so-called "war on women," entirely created by my colleagues across the aisle for political gain. Let's review the facts: The President, in his budget, called for reductions in spending in this slush fund that's given to the Secretary of HHS. The President called for reductions in spending. He may have already forgotten that several months ago you all voted to cut $4 billion out of this slush fund when they passed the payroll tax credit bill. So to accuse us of wanting to gut women's health is absolutely not true. Ladies and gentlemen, this is beneath us. This is beneath the dignity of this House and dignity of our constituents. They expect us to come here and to be honest with each other. To work out these issues. And to pick this big political fight where there is no fight is just silly. Give me a break.
Boehner received a standing ovation from his colleagues in the House Republican caucuses after his impassioned speech.
Watch Boehner's speech below via C-SPAN:
Have a tip we should know? tips@mediaite.com