Speaker Boehner: I Trust President Obama Even When We Have Tough Time Coming To An Agreement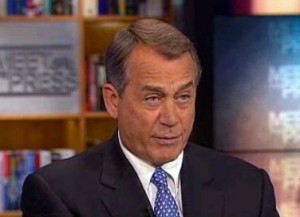 Responding to charges made by President Obama last Sunday that the number one agenda for Congressional Republicans has been to oppose everything he favors, Speaker John Boehner denied this was the case, and in fact accused the president of being more unwilling to compromise on issues like entitlement spending than himself and other Republicans.
Boehner insisted there is merely a difference of opinion between the two sides, and the goal of working with the president is to set those differences aside and find any common ground to build on. Unlike his Senate counterpart Mitch McConnell, who declared earlier this year that making Obama a one-term president was "my single most important political goal," Boehner explained to David Gregory that he is not focused on the next election and has told the president as much.
RELATED: John Boehner: 'I Get Along With The President Fine,' But He's Decided To 'Shirk His Responsibilities'
When asked by Gregory if he's given up on Obama and is just content to wait for a Republican president to be elected, Boehner insisted he never gives up, and he won't give up on getting things done with Obama to act in the best interests of the American people.
"We've had very good discussions. I do trust him. It's not that we have a tough time coming to an agreement. But the president and I have a very cordial relationship. I hope it will continue."
RELATED: MSNBC's Al Sharpton: 'The White House Is Furious With John Boehner''
Gregory pointed to comments made by top Obama officials that Boehner walked away from an agreement with the president, but Boehner explained that it was the president who never said yes to a compromise he offered to increase revenues if they could take on entitlement reform. He acknowledged that voters are turned off by what they see from Congress because there are two things people never like to see getting made: laws and sausages. (The jury's still out on which contains more pork.)
Watch the video below, courtesy of NBC:
Have a tip we should know? tips@mediaite.com
Josh Feldman - Senior Editor