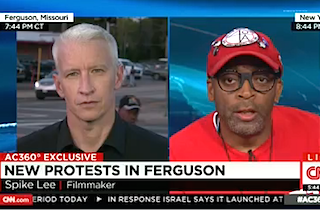 Filmmaker Spike Lee joined Anderson Cooper live on CNN Tuesday in order to express his outrage over the police action against protesters in Ferguson, Missouri in the 10 days following the fatal shooting of unarmed teenager Michael Brown by a police officer there.
"We don't need snipers on top of the tanks pointing at civilians," Lee said, advocating for retired Lieutenant General Russel L. Honoré, the man who headed up the military response to Hurricane Katrina, to be brought in to help calm things down in Ferguson.
"I do not think you should be killed in this country because allegedly you steal some cigarillos. I don't think you should be killed if there is marijuana in your system," Lee told Cooper. "The people, not only in Ferguson, but all over this country did not trust what is happening. Something smells bad in Ferguson. And it's not just tear gas."
"Many people thought that the moment that President Obama put his hand on Abraham Lincoln's bible and took the oath, as president of the United States of America that racism would disappear," Lee said, adding, "That is not the case." He compared the situation in Ferguson to past events like the riots after Rodney King was killed and after Dr. Martin Luther King, Jr. was assassinated.
"When people get to a point, to the tipping point they can't take it anymore — and I'm not saying that people should burn down stuff, riot and loot and I don't even want to the use the word riot, I'm going to use the word uprising," Lee said. "But this is not the first time we've seen this. And I just hope that things will really blow up, if the people aren't happy with the verdict of this upcoming trial."
"I just think there is a war on the black male and it's tearing the country apart in my opinion," Lee told Cooper.
Watch video below, via CNN:
[Photo via screengrab]
— —
>> Follow Matt Wilstein (@TheMattWilstein) on Twitter
Have a tip we should know? tips@mediaite.com