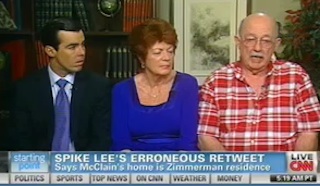 The elderly Florida couple, Elaine and David McClain, who were the victims of an erroneous tweet by filmmaker Spike Lee spoke to CNN's Soledad O'Brien on Thursday. While they accepted the apology Lee posted on Twitter, they're seeking a formal retraction before they can feel safe enough to go back home.
RELATED: Spike Lee 'Tweets' Apology To Family After Erroneously Tweeting Address Purporting To Be Zimmerman's
Last week, Lee sent the McClain's address out via Twitter, purporting it to be the address of Trayvon Martin shooter George Zimmerman. "I Deeply Apologize To The McClain Family For Retweeting Their Address.It Was A Mistake.Please Leave The McClain's In Peace.Justice In Court," Lee subsequently tweeted.
Attorney Matt Morgan explained to O'Brien that he had contacted Lee's representatives in hopes for a resolution to the incident.
"I have reached out to Spike Lee's camp and received word from one of his publicists and I'm hopeful that we'll be able to talk today," Morgan detailed. "First of all, we're grateful for his apology. We also would like a formal retraction. I think once a retraction is posted in a public manner, they'll feel safe to go home because then the world will know for sure that George Zimmerman is not living at their home address. At that point in time, their safety would be okay and they would be okay to return home."
Elaine McClain told O'Brien that the two had to seek refuge at a hotel and the ordeal has been particularly stressful.
"It's been really, really hard, really hard," McClain revealed. "I have a heart condition and high blood pressure and this has just skyrocketed it. We have a lovely, small home and not to be able to go to your home and not to be able to anything, clothes. We just got out as fast as we could."
Watch the McClain's interview with O'Brien below, via CNN:
Have a tip we should know? tips@mediaite.com