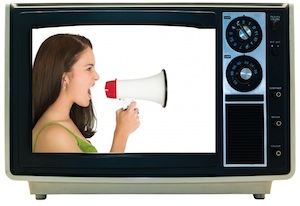 The cable news number crunchers have collapsed at their calculators, having spent hours sifting through the results of the just-complete May ratings period. Somehow–amazingly–the networks have yet again all declared themselves winners (of some sort). So once again, we're stepping in to affix asterisks to all their wonderful spin.


MSNBC's Headline: MSNBC CONTINUES TO TOP CNN IN PRIMETIME
Their takeaway? MSNBC wants you to know that they're beating CNN in the morning and in prime, and among viewers 18-34, MSNBC even beats Fox. In early morning, the network's Morning Joe had its best showing among viewers 25-54 in three years, beating CNN's American Morning and HLN's Morning Express.
Hardball with Chris Matthews at 7 p.m. beat CNN's John King USA in total viewers and had its best demo (25-54) delivery since March 2009. At 5 p.m., Hardball delivered its strongest demo and total viewer audiences since January 2009.
Lawrence O'Donnell, Rachel Maddow and Ed Schultz all saw ratings growth compared to May 2010, with The Ed Show up 46 percent among total viewers and 45 percent in the demo.
What's not being said? Matthews landed in third place behind CNN among viewers 25-54 at both 5 p.m. and 7 p.m., beaten by CNN's Wolf Blitzer and John King, who took second in the demo and total viewers.
CNN's Headline: CNN POSTS SIGNIFICANT YEAR-OVER-YEAR RATINGS GAINS–INCREASING +60% IN PRIME TIME; GROWING MORE THAN ANY OTHER CABLE NEWS NETWORK VS. A YEAR AGO
Their takeaway? CNN's ratings up up–way up, and nobody proves that point more than Anderson Cooper, who saw his ten o'clock ratings leap 89 percent. Other programs, like John King, USA and In the Arena also saw strong ratings growth in May, with bigger audience increases than MSNBC's shows.
What's not being said? CNN had strong growth, but lost to MSNBC in prime, and lost to MSNBC at 8 p.m and 9 p.m. MSNBC topped CNN for the 39th consecutive month at 8, where O'Donnell's Last Word topped In the Arena by 35 percent in the demo and 61 percent among total viewers.
At 9 p.m., CNN's Piers Morgan Tonight has continued to improve on the network's average ratings from a year ago and compared to the 4th quarter of 2010, but MSNBC's Rachel Maddow beat Morgan by 35 percent in the demo and by 34 percent among total viewers, the best demo performance for Maddow since March 2009.
Fox News' Headline (Our Best Guess, Anyway, Since Fox Doesn't Do Press Releases For Ratings): THIS ISN'T EVEN FUN ANYMORE: WE'RE NUMBER ONE. DOMINANT. NUMBER ONE. OUR RATINGS SHOW THAT WE HAVE DESTROYED OUR CABLE NEWS COMPETITION AND WE ARE NOW AIMING AT THE NETWORKS. ANY QUESTIONS?
The (theoretical) takeaway?: Have you noticed how hard the other news networks (and we use that term lightly) work to make you forget that they didn't win anything? It's because we won everything. Morning? Number one. Night? Number one. Our shows are across the board number one. Numero Uno. We are so dominant that we were the FOURTH most watched network in primetime.
What's not being said? Yep, Fox won again. But while CNN and MSNBC saw ratings growth for key programs, some of Fox News' key shows saw slight ratings declines in May. Among key viewers 25-54, Greta Van Susteren's On the Record was off 12 percent. Glenn Beck is down 30% in demo and down 15% in P2+.
Have a tip we should know? tips@mediaite.com