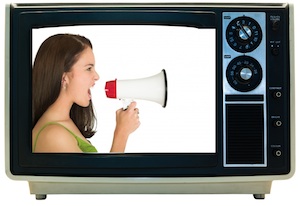 It's time to take another compelling journey into the realm of monthly cable news ratings through the oh-so-rosy lens of the network's publicists. What can you expect? Cleverly-crafted bullet points from the MSNBC, CNN, and imaginary* Fox News number-crunchers, all doing their best to somehow make Nielsen's month-end ratings look as if, yes, everybody won!
*(We imagine because Fox News does not send out ratings press releases.)
Did they really win? It all depends on who you talk to. But we can at least help parse the numbers and give a clearer picture of what really happened. Let's start with MSNBC…
MSNBC's Headline: MSNBC CONTINUES TO TOP CNN IN PRIMETIME
Their takeaway? Just repeat what we said in October. (Literally. It's the same headline).
Since FOX News outpaces both networks by a healthy margin, MSNBC has, again, made this a fight against CNN. And they seem to be winning, besting CNN in nearly every measure. The under-represented news here may have been a surging Al Sharpton posting higher demo numbers (25-54 year-olds) at 6 p.m. than anyone else in that time slot on MSNBC since last December. Also, Rachel Maddow's is the only non-FNC program that made it into the Top 10, in the demo, for cable news shows.
What's not being said? Even though Ed Schultz is beating Anderson Cooper in total and demo viewers at 8 p.m. ("…making November the 45th consecutive month MSNBC has topped CNN in the hour," according to the release), the 8 p.m. time slot is down over 30% from a year ago, when Keith Olbermann was manning the hour. Lawrence O'Donnell, the man Schultz replaced at 8:00, actually had a higher demo rating at 10 p.m. (227,000 to 201,000) than Schultz had at 8 p.m. To his credit, Schultz captured more total viewers.
CNN's Headline: CNN GAINS VIEWERS IN NOVEMBER; MSNBC DOWN -23% AND FNC DECLINES -32% IN PRIMETIME
Their takeaway? Look at those other losers!
CNN used most of its headline to tout the downturns of Fox News and MSNBC, while ignoring what might be the better headline: AC360 is up 49% (192,000 viewers from 129,000 viewers in the 25-54 year-old demo) from October in its 8 p.m. time slot, while jumping 20% in the 10 p.m. slot.
Also, apropos of nothing, CNN is besting VH1 and Oxygen in total viewers during prime time (although they're 30th — MSNBC was 27th, FNC was third).
What's not being said? CNN had a ratings bonanza with their Republican Presidential debate — they were the only of the three major cable news networks to have a debate in November — which inflated their numbers. Also, Cooper's 10 p.m. re-air had more demo viewers than his live show at 8 p.m. But this could also be a little skewed, as his follow-up show after the debate (at 10 p.m.) got a huge boost from the lead-in.
Fox News' Headline: (Our Best Guess since they don't do Press Releases): CALL US WHEN OUR 3 A.M. SHOW ISN'T BEATING YOUR PRIME TIME ONES
Their (theoretical) takeaway? Fine, we're down a little, but we're still beating you all senseless.
The Five is busting out, with its best ratings month since its July debut. It's beating Wolf Blitzer and Chris Matthews combined in demo and total viewers. Bill O'Reilly is chasing down broadcast shows in total viewers. Red Eye, which comes on at 3 a.m., is beating Morning Joe and Cooper at 8 p.m., among others, in the demo.
What's not being said? For as dominant as it has been, FNC did decline about 30% in viewership in November. It doesn't seem to be a cause for concern, however, as every other sign points to a very healthy network, with impressive numbers across the board.
Have a tip we should know? tips@mediaite.com