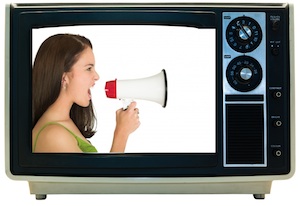 Look what time of the month it is! Mediaite Spin Cycle is back! So prepare to take another compelling journey into the realm of monthly cable news ratings through the oh-so-rosy lens of the network's publicists. What can you expect? Cleverly-crafted bullet points from the MSNBC, CNN, and imaginary* Fox News number-crunchers, all doing their best to somehow make Nielsen's month-end ratings look as if, yes, everybody won!
*(We imagine because Fox News does not send out ratings press releases.)
Did they really win? It all depends on who you talk to. But we can at least help parse the numbers and give a clearer picture of what really happened.
MSNBC's Headline: MSNBC CONTINUES TO TOP CNN IN PRIMETIME
Their takeaway? Since FOX News outpaces both networks by a healthy margin, MSNBC has made this a fight against CNN. They claim to top them in total primetime viewers (808,000 vs. 723,000), and tout the dual victories of Al Sharpton at 6 pm. (PoliticsNation beat John King USA by 38% among total viewers [655,000 vs. 475,000] and by 19% in the demo of A25-54 [145,000 vs. 122,000]) and Rachel Maddow at 9 p.m. (The Rachel Maddow Show beat Piers Morgan Tonight by 45% in total viewers [855,000 vs. 589,000] and 22% among A25-54 [214,000 vs. 176,000]).
Also, the network is No. 1 among African American viewers for the 21st consecutive month in primetime.
What's not being said? MSNBC might be winning in total viewers, but CNN has an advantage in the all-important 25-54 demo. Plus, the Lawrence O'Donnell/Ed Schultz switcheroo happened a week ago, and it's too early to tell what kind of impact it will have with a larger sample size. These victories may be short-lived, and just the result of curiosity.
CNN's Headline: CNN TOPS MSNBC AT 8 AND 10 PM
Their takeaway? CNN has grown in primetime over the last year, while FOX and MSNBC have seen ratings declines (keep in mind that October 2010 gave us the Chilean miner drama, which was ratings gold, making CNN's October gains even more impressive). They beat MSNBC at 8 p.m. and 10 p.m. across all demos. And Erin Burnett OutFront, which debuted on Oct. 3, has seen growth compared to CNN's ratings in the time slot last year, jumping from 135,000 viewers to 146,000 in the 25-54 demo and making a 7% gain in total viewers, going from 458,000 to 490,000.
What's not being said? CNN had a ratings bonanza with their Western Republican Presidential debate, which inflated their October numbers a bit. Take the debate away and replace it with a regular night of CNN programming, and the numbers aren't nearly as impressive (but still tie MSNBC in the demo for primetime). Still, the point here is to get ratings, so having a debate that brings in high ratings shouldn't really be grounds for punishment.
Fox News' Headline: (Our Best Guess since they don't do Press Releases): DO YOU HEAR SOMETHING? BECAUSE WE DON'T HEAR ANYTHING
Their (theoretical) takeaway? You know how good we're doing right now? Since we own all of the top 10 spots in cable news ratings (in the demo and total viewers), we decided to have some fun. Red Eye — that show that airs at 3 a.m. — beat Piers Morgan, Erin Burnett, Chris Matthews, Nancy Grace, and Al Sharpton, among others, in the 25-54 year old demo. This is us playing on your drums and disrespectfully dropping the sticks in front of your face. You got served. Or Drumlined. Whatever. We're Number One.
What's not being said? Anderson Cooper's 10 p.m. repeat is killing their buzz. FOX News would have the top 12 shows in the demo if AC360 didn't squeak in there at No. 11. And MSNBC and CNN have both pointed out that FOX's ratings are down from a year ago. But, again, that may be due to the miners boosting everyone's numbers in October 2010.
Have a tip we should know? tips@mediaite.com