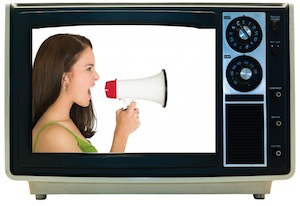 It's time to take another compelling journey into the realm of year-end cable news ratings through the oh-so-rosy lens of the network's publicists. What can you expect? Cleverly-crafted bullet points from the MSNBC, CNN, HLN, and imaginary* Fox News number-crunchers, all doing their best to somehow make Nielsen's year-end ratings look as if, yes, everybody won!
*(We imagine because Fox News does not send out ratings press releases.)
Did they really win? It all depends on who you talk to. But we can at least help parse the numbers and give a clearer picture of what really happened. Let's start with MSNBC…
MSNBC's Headline: MSNBC BEATS CNN IN PRIMETIME FOR THE THIRD CONSECUTIVE YEAR
Their takeaway? CNN Bad; MSNBC Good.
The MSNBC release meticulously details how much better MSNBC was than CNN this year. It took nine bullet points to get to one where they didn't mention smacking down their cable news rival in the ratings. And that ninth point was impressive in its simplicity — MSNBC's daytime (9 a.m. – 5 p.m.) viewership is up 19% in the 25-54 year-old demographic and 21% in total viewers.
MSNBC also hung its hat on the success of Morning Joe, noting that the early morning program had the best-ever ratings for MSNBC in the 6 a.m. – 9 a.m. time slot, "and had more year over year growth than CNN, Fox News, and HLN combined."
What's not being said? For all the primetime beatdowns MSNBC handed CNN, they were beaten down themselves by Fox News. Also, while their now-infamous "Ninth Bullet Point" showed healthy gains, they trail CNN in Dayside ratings by a fair amount (CNN is up 161,000 to 94,000 in the demo). Still, MSNBC, in the insane wilderness of primetime cable news ratings, has a very strong grasp on second place.
CNN's Headline: CNN HAS SIGNIFICANT RATINGS GAINS IN 2011, UP +30% IN PRIMETIME
Their takeaway?Remember those milk commercials form the 80s?
CNN saw growth across several primetime hours, highlighting ratings jumps for AC 360 (up 40% at 8 p.m. and 37% at 10 p.m. in the demo from 2010) and Piers Morgan Tonight (up 26% from Larry King Live). The network's release also pointed out that it has won back second place in Total Day viewers from MSNBC.
What's not being said? For all the growth CNN had in 2011, it was because 2010 was its lowest-rated year on record (a fact pointed out by MSNBC in their release), and 2011 was its second-lowest rated year in both total viewers and in the demo. Still, instead of continuing a downward trend, they're at least making a sharp turn upwards.
HLN's Headline: HLN BREAKS RATINGS RECORDS IN 2011
Their takeaway?Forget about everyone else, we had a damn good year.
HLN's release refreshingly left out mentions of other networks (save for one tiny exception) and just focused on their own gains. So congratulations to HLN, the winners of 2011's "Miss/Mr. Congeniality Award"! Huzzah!
The network's most impressive feat may have been Nancy Grace's telecast on July 5, the day the Casey Anthony verdict was announced. Audiences flocked to Grace's program, with 2.9 million total viewers tuning in, making it her highest-rated show ever. Other good news? HLN Special Report w/Vinnie Politan is averaging 156,000 demo viewers since its May 2 premiere, a 93% increase over the time period in 2010. And Morning Express with Robin Meade is topping MSNBC's Morning Joe in the demo by a solid 5,000 viewers.
What's not being said? HLN didn't even merit catty comments from the CNN and MSNBC releases, so they aren't exactly playing with the big boys just yet. Their ratings have them in fourth place more often than not (although Grace and Jane Velez-Mitchell have been known to score second and third-place victories), so bringing in the failures of other networks right now might be asking for it. Still, ratings records are never a bad thing.
Fox News' Headline: (Our Best Guess since they don't do Press Releases): WE ARE THE ONES TO BEAT, DEFEAT WE SHALL NOT MEET, SO INTO THE BACKGROUND THE REST DO RETREAT
Their (theoretical) takeaway? We're the New York Yankees of this sh*t!
Fox News, love them or hate them, pulled off another insanely successful year, finishing 2011 with the top 13 programs in total viewers for all of cable news. In the demo, they had nine of the top 10 shows, and they ended up as the fourth-best network in all of cable television during the primetime hours, behind only USA, ESPN, and TNT. They beat MSNBC and CNN combined in total viewers during primetime, total day, and during each hour of programming. Want a Fun Fact? When all the dust on the year's ratings had settled, FNC's Republican debate on December 15 out-rated five original airings of MTV's Jersey Shore in total viewers from earlier in the year.
What's not being said? CNN was kind enough, in their release, to point out that Fox News is down about 95,000 viewers in the demo and almost 140,000 in total viewers. But with a stranglehold on the Top 13, this is likely not a huge concern — if it's a concern at all — for the network.
Have a tip we should know? tips@mediaite.com