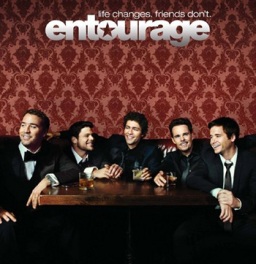 It was another exciting episode of HBO's La La Land buddy comedy about the good life this week on Entourage: Vince slept with someone, E slept with someone, Drama made out a lot and Turtle went shopping.
This is the newest season of the once-interesting show – minimized plot points, maximized "character development." And still, we watch (at least I watch). Why do we still care?
HBO's inside Hollywood dramedy has seen many iterations since it premiered in 2004. There was the rise of Vince to superstar status, the fall to relative obscurity and his battle to come back. Along the way, he stayed true to his old NY buddies from home, now navigating the West Coast (this was a theme in HBO's promotional push for this season, seen here and elsewhere). In the mix was arguably the strongest character, Ari Gold, to drive the show.
Now the character arcs are stagnant. Gold still has the most interesting room to grow, as he and his friend Andrew Klein play off each other over monogamy, business acumen and the spoils of victory in the cutthroat world of Hollywood. But the 'boys' are boring.
Still every week there are a few consistently funny jokes, and we tune in for the opportunity to banter about the latest ep at the proverbial watercooler. Entourage, in all its frivolity, is still pretty damn cool.
But for how much longer? HBO has been consistently smart about putting an end to huge series' while still in their prime. The Sopranos ended after six seasons, as did Sex and the City. The best two HBO series of all time (in my opinion), Six Feet Under and The Wire lasted five.
Entourage is in the midst of season six, and wandering aimlessly. What does HBO do? Last week, it was renewed for season seven.
People will continue watching – not as many as True Blood or even Hung, but still an average of more than 7 million a week. But in order to keep the viewers interested, we need to see conflict, drama and surprise.
This week on Showtime's hit Weeds, Nancy's youngest son was shot by an errant bullet aimed at her on-again, off-again Mexican druglord politician boyfriend. The dichotomy between the two shows couldn't be more clear. Although the same amount of weed is consumed on Entourage, their plotlines this season remain in a stupor.
For another point of view, we turned to Toure – a regular on MSNBC and fan of the show, as seen by his active Twitter feed:
I think we've got a pretty good Entourage season going on. A lot has happened and though it may not meet the drama of last season where it seemed Vince was spiraling down and out of Hollywood, we've got a lot happening. The boys are trying to grow up and move out of Vince's shadow. They don't want to be just his Entourage any more, they want their own businesses without Vince holding their hands. Vince feels the mobile frathouse thing they had slowly breaking apart but can't do anything about it. Where last season had a bittersweet twinge because it seemed Vince might be losing his place in Hollywood, this one could end up bittersweet because the gang is growing up slash falling apart. Even Lloyd wants to grow up which is nice. Andrew Klein has turned out to be the loser Barbara predicted he'd be. Jamie-Lynn Sigler is a nice addition though it's strange that she's just a perfect girlfriend with no downside, no sacrificing to be made. E's girlfriend is creepy, that won't end well. I could go on. It's a good season about maturing: Vince has already gotten his wings because the Scorsese film succeeded, Ari shows himself to be a mature man by scolding Andrew Klein for his indiscretion, and Lloyd, Turtle and E are fighting to jumpstart their careers. Only Drama isn't trying: he's more childish than ever. Such a hater, always there to kick Turtle or E when they're down.
—–
» Follow Steve Krakauer on Twitter
Have a tip we should know? [email protected]