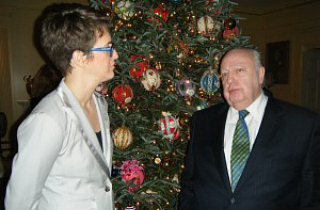 A reliable tipster informed Mediaite that Fox News chief Roger Ailes and MSNBC star Rachel Maddow were spotted Friday morning meeting at the Carlyle in the Upper East Side of Manhattan.
While there is no photographic evidence, the insider tells us that they could be seen "smiling like they were having a good time," almost like "old friends." This comes as no surprise considering the positive public relationship the two have seemingly shared over the last few years.
Earlier this year, Ailes told The Hollywood Reporter that "I think Rachel Maddow has been a surprise to a lot of people," adding that, "on a personal level, I like her. I don't want to hurt her career, so I won't say we get along, but I've had dialogue with her, and she's very smart."
More famously, perhaps, was Ailes' enthusiastic blurb for Maddow's 2012 non-fiction Drift: The Unmooring of American Military Power, which read:
"Drift never makes the case that war might be necessary. America would be weakened dramatically if we had underreacted to 9/11. However, Rachel Maddow makes valid arguments that our country has been drifting towards questionable wars, draining our resources, without sufficient input and time. People who like Rachel will love the book. People who don't will get angry, but aggressive debate is good for America. Drift is a book worth reading."

–ROGER AILES, Chairman and CEO, FOX News
The pair also met at the 2009 White House Christmas party [photo featured above], which became the start of their correspondence:
They struck up a conversation about television production. To her surprise, she found Ailes charming and friendly. The next day The Huffington Post ran a picture of the encounter, and Maddow sent Ailes a note. "I didn't want him to think that I agreed with The Huffington Post's implication that this was a scandal," she says. Ailes sent a note back assuring her that he thought no such thing. It was the start of an off-the-record handwritten correspondence between them, mostly on the art of cable news.
So it's probably not a surprise the pair would ever enjoy each other's company. And it surely went better than that time Ed Schultz and Eric Bolling allegedly ran into each other at a bar.
[Featured image from 2009, via]
— —
>> Follow Andrew Kirell (@AndrewKirell) on Twitter
Have a tip we should know? tips@mediaite.com