Spox for Anti-Trump PAC Outlines Strategy to Defeat Frontrunner by 'Educating Voters'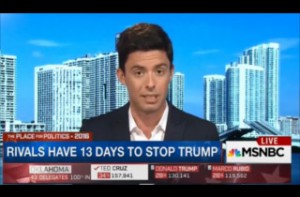 Former Jeb Bush aide Tim Miller went on MSNBC Wednesday morning to outline the strategy for the anti-Donald Trump PAC Our Principles, for which he had recently been hired as spokesperson.
"Number one," Miller said, "we're gonna talk about how he's completely unelectable in a general election against Hillary Clinton. Hillary Clinton could get indicted by the FBI, go to jail, she would still win 48 out of 50 states against Donald Trump. He's getting crushed by her in all the polls."
"Number two," he continued, "we're gonna bring up his failures as a businessman." Miller proceeded to catalogue some of Trump's unsuccessful business ventures, including starting a subprime mortgage lending company on the eve of the financial meltdown and Trump University, an unlicensed "school" that took in tens of thousands in tuition dollars from credulous students who are now suing the mogul for fraud. "Just think of all those people who got screwed over by Donald Trump," Miller quipped.
"These arguments," host Chris Jansing said, "have been made."
"There has not been a consistent onslaught against Trump since Iowa," Miller said, referring to the first state to caucus, which Trump lost to Ted Cruz on Feb. 1. Our Principles PAC, he said, had spent $3 million educating Hawkeye voters — a campaign Miller credited for the role it played in Trump's second-place showing.
"We have a lot more new research, which voters do not know about," he claimed. "This guy can be stopped." Miller further accused the media of jumping to "anoint" Trump because "he's good for business."
"If Donald Trump is the nominee in November, who will you vote for?" Jansing asked.
"Who will Tim Miller vote for?" Tim Miller replied. Not Trump, he said. And certainly not Clinton or Sanders.
As to the bombshells they unearthed to defeat The Donald, he concluded: "I look forward to surprising you over the next few weeks."
Miller is part of a surge of establishment Republicans uniting to combat Trump's ascendency. Republican strategist Doug Heye, who has also joined Our Principles PAC, appeared on Sheppard Smith's show Wednesday afternoon to make a similar case for the anti-Trump GOP contingency's prospects.
[image via screengrab]
Have a tip we should know? [email protected]