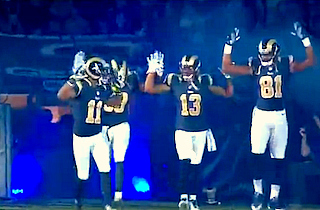 Before Sunday's game against the Oakland Raiders, several St. Louis Rams players entered the field with a "hands up, don't shoot" pose, a reference to the shooting death of Michael Brown, which has roiled nearby Ferguson, MO.
Guess who didn't appreciate that: the St. Louis Police Officers Association, which is demanding that the team apologize and the players be punished.
"The St. Louis Police Officers Association is profoundly disappointed with the members of the St. Louis Rams football team who chose to ignore the mountains of evidence released from the St. Louis County Grand Jury this week and engage in a display that police officers around the nation found tasteless, offensive and inflammatory," the association wrote Monday.
"I know that there are those that will say that these players are simply exercising their First Amendment rights," said SLPOA Business Manager Jeff Roorda.* "Well I've got news for people who think that way, cops have first amendment rights too, and we plan to exercise ours. I'd remind the NFL and their players that it is not the violent thugs burning down buildings that buy their advertiser's products. It's cops and the good people of St. Louis and other NFL towns that do. Somebody needs to throw a flag on this play. If it's not the NFL and the Rams, then it'll be cops and their supporters."
* Deadspin has some interesting background on Roorda, "a former cop who was fired for repeatedly lying and falsifying reports."
Read the full statement here. Watch the players below, via CBS Sports:
[h/t Deadspin]
[Image via screengrab]
——
>> Follow Evan McMurry (@evanmcmurry) on Twitter
Have a tip we should know? tips@mediaite.com