Stacey Dash Defends Romney Support On Piers, Tells Naysayers 'Do Your Homework'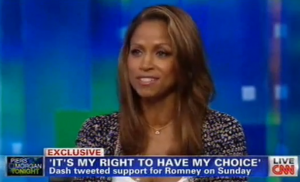 On Tuesday night, Piers Morgan invited actress Stacey Dash — of Clueless fame — to discuss the recent frenzy spurred her tweeting support for Mitt Romney. While the backlash surprised her, Dash said she wasn't offended. And that she genuinely believes Romney deserves a chance to help the country.
"The idea that you as a black actress would come under such venomous attack purely" for picking a candidate is "extremely objectionable," Morgan said.
We're all entitled to our own opinions, Dash said, and she simply exercised her First Amendment right to say who she's voting for. Dash, who voted for President Obama in 2008, said she's switched her vote "because of the state of the country. And I want the next four years to be different."
"I believe him," Dash said of Romney. Citing the Romneys' Meet the Press interview, she said, "They spoke to me. They seemed authentic and genuine."
Dash said she didn't understand the fury, much less whether it came from her being a black actress or simply an actress. The reaction "shocked" and "saddened" her — but not angry or offended.
On a different note, Dash said she heard from Paul Ryan, who thanked her for her support, and told her she was brave and they support her as well. Dash called his reaching out "generous" and "kind."
The harsh reaction following Dash's vocal support for Romney shows the country is not united, Dash said. But we all need to be united and realize we are all capable of achieving the American dream. Further, Dash added, it is "unfair" to "demonize" someone for achieving the American dream.
"Do your homework, look at your country," Dash said, also touting Romney's record as both a businessman and governor. "I believe him. And I believe he deserves a shot."
The segment below, via CNN:

Have a tip we should know? tips@mediaite.com