Staff Sgt. Salvatore Giunta Becomes First Living Post-Vietnam Recipient Of The Medal Of Honor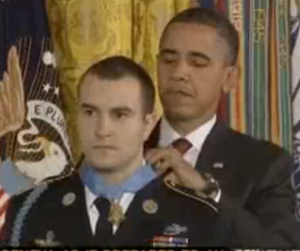 ABC News is reporting that Staff Sgt. Salvatore Giunta of Iowa has become the first living recipient of the Medal of Honor since the Vietnam War. Giunta is being recognized for his valor in the wars in both Afghanistan and Iraq; President Obama just presented him with the award at a White House ceremony. Giunta is just 25 years old.
The staff sergeant has called Oct. 25, 2007—when he performed the heroic actions that made him eligible for the Medal—the saddest day of his life. Here's a full report of what happened that day:
According to the official narrative, Giunta's platoon was heading back to its outpost in the Korengal Valley — dubbed "the Valley of Death." While providing watch for two platoons, his platoon was ambushed by 10 to 15 enemy personnel who used an "L" shaped, close-range ambush 10 meters away, firing 10 rocket propelled grenades, three machine guns and additional AK-47s from throughout the ambush line.

The enemy immediately hit and wounded two members of the lead team, Staff Sgt. Joshua Brennan and Spc. Frank Eckrode. While then-Staff Sgt. Erick Gallardo moved back to his Bravo Team to get situation reports, Giunta provided covering fire, and led his team in suppressing enemy positions, assigning sectors of fire and commanding his M-203 gunner to engage close targets. While advancing toward the team, Gallardo was struck in the helmet by an AK-47 round, which caused him to fall to the ground. Despite being under heavy fire by PKM, RPG, and small arms, Giunta immediately left his covered position and pulled his squad leader to safety. Giunta was struck twice by bullets — one stopped by his protective body armor; the other hit a weapon he carried across his back.

Giunta then began moving forward toward the enemy with Pfc. Garrett Clary and Gallardo, throwing grenades, running forward, throwing more grenades, then running forward again through enemy machine gun and small arms fire in an attempt to subdue the enemy. They then assaulted forward through those positions, found an injured Eckrode, and began treating his wounds. It was not known at that time that the squad's medic, Spc. Hugo Mendoza, had already succumbed to his wounds. Realizing that Brennan was missing, Clary and Giunta continued to push forward toward the enemy, taking small arms the whole time. It was then that Giunta spotted two enemy combatants attempting to drag off Brennan, who had been badly wounded. Giunta ran toward the enemy combatants, shooting one at close range until he dropped to the ground, and causing the other to drop Brennan and flee.

Giunta began to administer first aid to Brennan. He began talking to him, soothing him and reassuring him to hold on, that he'd be back home in no time. Brennan would later succumb to his wounds.
Harrowing stuff, to be sure. As befits a selfless soldier, Giunta, according to ABC, "has insisted his were not the most important actions that day, and that he, like the other men of the Company B, 2nd Battalion (Airborne), 503d Infantry Regiment was just doing his job." Congratulations, Sergeant.
Video of the ceremony—including Obama going "off-script" to tell the assembled crowd, "I really like this guy"—from Fox News is below.
Have a tip we should know? tips@mediaite.com