Stage-Rushing Protestor Admits Premeditated Plans Aimed at 'Coward, Opportunistic' Trump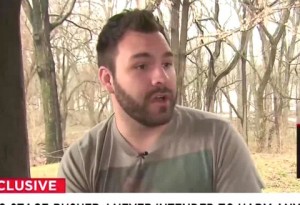 Tommy DiMassino, the protestor who made headlines this weekend in Dayton, Ohio after rushing the stage at a Donald Trump rally, spoke exclusively with CNN Sunday night, accounting the details of the intense moment in question. DiMassino admitted that his goal was to take the podium away from the GOP frontrunner — not to cause harm in any way — although Secret Service quickly deescalated the situation.
"I wanted to rush the stage when he referenced Chicago" DiMassino told CNN's Martin Savidge, continuing, "That was my goal."
When asked about what ran through his mind in the moment leading up to rushing the stage, DiMassino said, "I was thinking that Donald Trump was a bully, and nothing more than that… I can see that he's truly just a coward, he's opportunistic."
Savidge pressed DiMassino about the optics of his move, which could easily have been misconstrued as a potential act of violence. DiMassino doubled-down; "I don't see it that way," he responded, noting that Trump and his followers live a state of fear regarding the Islamic faith.
Trump responded to the incident with this bizarre Tweet Saturday afternoon, claiming that DiMassino has ties to ISIS:
USSS did an excellent job stopping the maniac running to the stage. He has ties to ISIS. Should be in jail! https://t.co/tkzbHg7wyD?ssr=true

— Donald J. Trump (@realDonaldTrump) March 12, 2016
"I in no way harmed anyone, intended to harm anyone, I'm not a member of ISIS. I have no known ties to ISIS. I've never been out of the country; I only speak English. [I'm a] Christian," said DiMassino.
On Sunday morning Meet the Press' Chuck Todd pushed Trump hard on the hoax factor of the original Tweet that tied DiMassino to the nefarious actions of the Islamic State, which has been proven false. In response, Trump simply noted, "What do I know about it? All I know is what's on the internet."
Watch the above clip from CNN's interview.
[image via screengrab]
Have a tip we should know? tips@mediaite.com