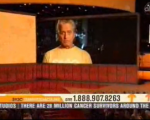 On Friday night, four networks simultaneously hosted the second "Stand Up 2 Cancer" live telethon to raise money and awareness of a ravaging, indiscriminate disease. For the second time, a small city's worth of celebrities from film, TV, music — plus all the producers and technicians necessary to cut between them efficiently so as to cram them all into an hour — joined with survivors, advocates and health care professionals to raise awarness about all the ways in which cancer can strike, and urge viewers to contribute whatever they could to the ongoing, common search for a cure. It was a follow-up to 2008, when they raised $100million. Patrick Swayze was at that one. In 2010, one cast member short and millions upon millions lost to the disease in that interim, they did it again.
Boom! Wrist slap from Hank Stuever of the Washington Post. Apparently it was too contrived. Apparently, you're supposed to cross your fingers and just hope that umpteen celebrities put on matching t-shirts and cluster around a phone bank. Tune in next time when he writes a screed complaining about how actors on Broadway are so scripted.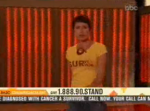 The weird thing is, it didn't seem to be telethons he had a problem with, just cancer telethons, seeming nonplussed about the "endless pop-cultural and commercially inspired fixations we have around the disease, and to the ways we've overcompensated for all those years when "cancer" was a word barely whispered." Maybe he likes Angels in America better because AIDS is more "edgy?" Honestly, I have no idea.
As always, the cancer movement's message is that we are so close to a breakthrough. Reese Witherspoon, with her perfect blond tresses cascading over her "Stand Up to Cancer" T-shirt, urged us: "The dishes can wait. Pick up the phone." Where, of course, a random bevy of celebs answered your calls and waited for their camera shot. "Hold on a second," Mark Harmon told his caller, so he could look at the camera and tell us to call now.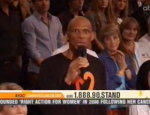 Oh my God, Reese has perfect hair! And Mark Harmon's still totally hot! Geesh, what the hell would we listen to them for? We want our cancer advocates unshowered and slightly grimy, dammit! I mean, really. If you're going to try to underline the sarcasm of the previous sentence — apparently we're not close to a breakthrough — then why not do that with facts and stats rather than knocking a pretty actress (a pretty Oscar winning actress, but let's reduce her to her hair). But it's so much easier to mock, even if the zings fall wildly off the mark (the Entertainment Industry Foundation is "domineeringly named?"). So wait, we aren't so close to a breakthrough? Hm, perhaps he can tell my cousin Suzanne, who rocked an experimental drug a year ago to kick her second bout with a breast cancer. Awk-ward.
Okay so what else does crankypants have a problem with? " "Stand Up to Cancer" was an almost flawlessly choreographed extravaganza of stage blocking, camera cues and celebrity segue. Television production classes should watch it in awe; as should the students in Marketing 301; as should newbie celebrities still seeking to perfect that soul-eyed mix of cheerfulness and solemnity." Read: Slick, superficial and fake. Damn those well-trained production teams and people trying to find hope amid something that totally sucks! Hank Stuever sees through you.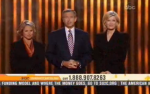 And then there's this:
The entire hour flew by in a relentless barrage of slide shows, video clips and songs. How is it possible to be emotionally moving and so strangely hollow at the same time? That is, to me, the eternal mystery of the effort both to market the scientific fight against cancer and gird ourselves for the emotional battles. We need money and hugs. The two go together and somehow get confused; caring gets easily monetized these days.

"As my memory rests, but never forgets what I lost," Billie Joe Armstrong sang, from a Green Day hit. "Wake me up when September ends." He has said the song is a tribute to his father, who died of esophageal cancer.
Strangely hollow, you nailed it! Also totes hollow: When Diane Sawyer, Brian Williams and Katie Couric spoke about the people they'd loved and lost to cancer, with personal photos flashed on the screen. Diane Sawyer spoke of losing her friend and colleauge, GMA senior producer Jim Bogdanoff. Brian Williams spoke about losing his mother and his sister. As he spoke a photo of the two of them together in a kitchen, laughing and relaxed and happy, flashed on screen. Katie Couric spoke of losing her husband, and her sister. One by one those two photos flashed. I'm searching for the word for those three people sharing such personal losses…what is it? Oh yes, contrived.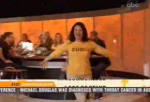 Honestly, I'm mostly writing about this review because it ticked me off so much, not because it's good enough to warrant a line-by-line takedown. Stuever was probably writing fast for a deadline, fine, but it doesn't really make a larger point. The kicker, that cancer is "America's secular religion" seemed to come from nowhere (and btw, I thought that was Justin Bieber). There was no mention of other telethons that might perhaps have done it better — the Haiti telethon, for which George Clooney just won an honorary Emmy, or the post-September 11th telethon or post-Katrina telethon, or the Jerry Lee Lewis telethon — or even the March of Dimes telethon, which was held up during the broadcast as a model for Friday's mid-recession broadcast. I didn't realize that the March of Dimes had been launched during the Great Depression. That's where the "dimes" come in – it was all about giving just a little bit for the sake of the whole. A look at what's different about having a telethon in tough times, how this telethon compared to others might have added value. But no. It's so much easier to mock Gwyneth Paltrow. (With the laziest punchline of the piece, by the way — he didn't mock anything about Gwyneth Paltrow, just used her name as a kicker. Guess her shiny hair offended him, too.)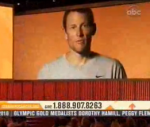 Here, by the way, is who Stuever didn't mention: Michael Douglas, Patrick Swayze, Christina Appelgate, Fran Drescher, Maura Tierney, Kareem Abdul-Jabbar, Kathy Bates, Ethan Zohn, Robin Roberts, Lance Armstrong. They all appeared in the opener, noting that "cancer doesn't care" about your life, how you live it, or how much you love it. "Cancer doesn't care that it just took your father," said Maura Tierney. That, to me, was the opposite of contrived.
Were there some mic issues? Yeah. Were some of the bits lame? Yeah, though kudos to Bill Hader and Richard Branson for trying. Was it the most hard-hitting medical special I'd ever seen? No. Did that "Stand Up 2 Cancer" song at the end have an actual tune? Hard to say. Whatever. It was an hour special on a Friday night, made a priority by a great many people who sunk a great many dollars into making it happen, so a great more many dollars could be raised. Contrived? Actually, overall I'd have to say not, not at all. Even as I write this I'm remembering more moments that I found moving, like Rob Lowe wearing his Stand Up 2 Cancer t-shirt with "For Mom" drawn on in marker. I didn't know his mom died of cancer. Now I do, because he wrote it on his shirt in front of millions of people. I don't know what Stuever's standard for "real" is but especially in this age of Snooki and the gang, that more than cuts it.
A few videos from the show are below. The full broadcast can be found here. Donate here.
Stand Up 2 Cancer Opener – "Cancer Doesn't Care"


Katie, Diane and BriWi: Who They Lost


Seth Rogen Says "Testicles" Live on 4 Networks


Community's Ken Jeong Strips Down For His Derma


Related:
The Star-Studded (And Tear-Jerking) "Stand Up To Cancer" [ETP]
Have a tip we should know? tips@mediaite.com