Star Jones Awkwardly Tries To Defend Socialite Friend Who Renounced U.S. Citizenship
Star Jones Awkwardly Defends Socialite Friend Who Renounced U.S. Citizenship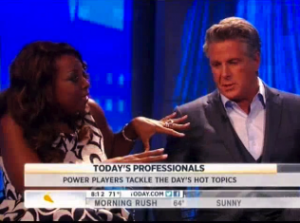 Socialite Denise Rich, a big Democratic fundraiser, has renounced her United States citizenship, and there is some speculation that she did so in order to avoid paying millions of dollars in taxes. On the Today Show this morning, Star Jones tried her best to defend Rich, who happens to be a close friend, while her co-panelists Dr. Nancy Snyderman and Donny Deutsch were unapologetically calling Rich's actions "despicable."
RELATED: CNBC's Rick Santelli: 'Nobody's Going To Chase Me Out Of My Country'
Matt Lauer explained that Rich is dropping her U.S. citizenship for Austrian citizenship, and told Jones that the story must put her in an "odd position" because of her friendship with Rich. Jones said that she can't speak publicly about the legalities surrounding the decision, but insisted Rich just wants to be closer with her children.
Deutsch asked why Rich had to renounce her U.S. citizenship in order to do that. Jones said that the children live in Europe, and insisted the tax avoidance is only a "byproduct" of her decision, not its catalyst.
Lauer turned to Snyderman and Deutsch to get their take on the case, telling them to be "careful" because of Jones' relationship with Rich. Snyderman said she didn't want to bother being careful, and declared Rich's actions to be "despicable." When Jones tried to rebut her, Deutsch chimed in, agreeing with Snyderman and the use of the word "despicable."
And as if this wasn't enough, Lauer noted that Rich's husband, Marc Rich, was famously pardoned by President Bill Clinton after being charged with tax evasion. Lauer used this to argue that U.S. leaders "have been very good to" Denise Rich. Jones insisted Rich has good intentions, and got somewhat confrontational with Deutsch and Snyderman.
"I'm not going to let you call somebody I love, who I've been supportive of, who's been supportive of me, despicable, and not call you out on it."
Watch the video below, courtesy of NBC:
Have a tip we should know? tips@mediaite.com
Josh Feldman - Senior Editor