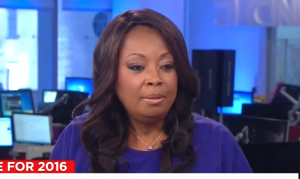 Former co-host of The View, Star Jones sat down with CNN's Carol Costello to discuss the ongoing spat between the talk show and Republican presidential candidate Carly Fiorina. She proceeded to ridicule the popular ABC program's response to Fiorina, who recently criticized the show on Fox News. Considering Jones' history with the show, this is rather rich.
"There's nothing I hate more than pitting conservative women against liberal women," Costello explained, before asking: "Why?"
"The View has always been the 'water cooler topic' show. They're always going to push the envelope," said Jones. Then she got into it, saying she was "disappointed" that "the first real juicy topic of conversation surrounding the impact of The View and the two women who are running for President of the United States happens to be a controversy about who has a demented-looking face. That does not bode well for women in America."
Jones proceeded to list the major issues of gender equality currently faced by women today, per popular liberal and progressive lines of argument. When Costello pressed further about her concern over pitting conservative and liberal women against one another, however, the former View co-host threw some more shade at the show.
"They served Carly Fiorina a silver platter for her to do her talking points. She had a wonderful time. It's never going to get any better for Carly Fiorina. They should just say, 'Yes thank us for what we just did for you, Carly.' When in reality, it was a silly poke at another woman."
In the midst of their back-and-forth jabs, Fiorina is set to appear on The View this Friday.
[Image via screengrab]
— —
>> Follow Andrew Husband (@AndrewHusband) on Twitter
Have a tip we should know? tips@mediaite.com