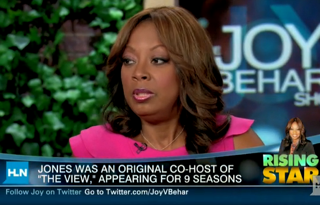 Star Jones has been some time removed from her stint hosting The View, but it's clear her time there, good and bad, made a profound impact. Visiting former colleague Joy Behar tonight to discuss her new novel– about, yes, female talk show hosts– Jones called her last year on the program "miserable" and wondered aloud about the lack of vocal good will from Behar after her open-heart surgery.
"I miss the back and forth," Jones responded to Behar's question whether she missed the program. She did say she would return if Behar invited her, a responsibility Behar immediately washed her hands of– "it's not my thing." Jones then got into deeper subjects, including her weight problems and depression, before commenting on Behar's absence in her life during that period. "Since the day I left you didn't call, you didn't write," concluding that even in the hospital Behar "didn't send me flowers." This was after noting to Behar that her departure from the program was "the most emotionally destroying time in my life. I wasn't sure if I could take it."
The barrage, softly delivered as it was, took Behar somewhat by surprise, with Behar initially responding she wasn't aware the health problems were so dire and that "I must've blanked out." "I have a tendency to block out illnesses," she confessed, "I'm very immature in that way." With that, she changed the topic back to the book, asking whether she or any other coworkers appeared in the novel. "Elements," Jones replied slyly, leaving open-ended how a character like Behar's is depicted.
The chat via HLN below:

Have a tip we should know? tips@mediaite.com