Star Witness: Teenage Girl 'Rachel' To Testify About Final Phone Call With Friend Trayvon Martin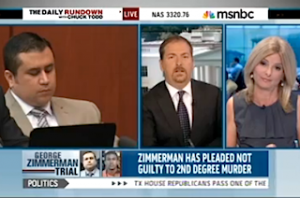 Prosecutors in the George Zimmerman murder trial are set to reveal a star witness Tuesday. The court expects to hear testimony from a friend of Trayvon Martin's identified only as "Rachel." The teenage girl was possibly one of the last people to hear Martin's voice, apparently speaking to her friend on his cellphone shortly before he was killed.
The witness previously submitted written testimony in which she described Martin as sounding afraid on the phone and urged him to run. She said she heard him ask someone, "why are you following me?" Before the phone went dead, she reported hearing what sounded like Martin falling to the ground.
During coverage of the trial earlier Tuesday morning, Chuck Todd asked MSNBC legal analyst Lisa Bloom how significant the girl's testimony might be in the case.
Bloom said the girl's story "ultimately changed the course of the case" as it was only after she spoke out about what she heard on the phone that police decided to charge Zimmerman with murder. "When that story came to light, that really turned the course of things," she said. "Law enforcement took a different look and ultimately Zimmerman was charged."
When Todd asked Bloom whether she thought "Rachel" was the prosecution's "most important" witness, Bloom pointed out another interesting wrinkle. "She could be an important witness," she said, "but stay tuned for cross-examination because she also said Trayvon Martin's funeral was something she did not attend because she was in the hospital. That story turns out to be untrue."
Watch video below, via MSNBC:
—
>> Follow Matt Wilstein (@TheMattWilstein) on Twitter
Have a tip we should know? tips@mediaite.com