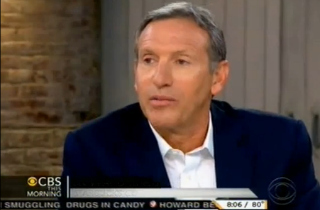 Starbucks CEO Howard Schultz's interview Wednesday on CBS This Morning took a brief foray into politics, with the outspoken businessman lamenting the current state of affairs in Washington, particularly the fact that billions will be spent on an election cycle while millions are out of work.
Co-host Charlie Rose asked Schultz whether he is more optimistic since beginning a vague campaign to "put aside partisanship" in Washington and focus on "real solutions."
The CEO responded: "Nothing would please me more than to be able to say I'm more optimistic. But it's hard to be more optimistic when you think that $6.5 billion is going to be spent between now and November on the presidential election cycle; that 14 million people are unemployed, housing crisis continues, the debt ceiling debacle is going to be with us again."
– RELATED: Gay Activists Planning 'Starbucks Appreciation Day' To Counter 'Chick-fil-A Appreciation Day'
"I think the country is so hungry for authentic, genuine leadership on both sides," he continued. "And until we see that, I think it's hard to be optimistic. I'm optimistic about the country, I'm optimistic about the American people."
"You're just not optimistic about the leadership?" Rose asked.
"No, I'm not," Schultz said.
He then went on to explain that his campaign to get his fellow businessmen to "step up" and create more jobs has been rather successful: "We've raised millions of dollars, we've put that money to work. We've been able to create thousands of jobs…. Washington is not doing much and companies have a bigger responsibility today than they have before because I think the rules of engagement have changed where corporate CEOs and businesses have to step up and do more for the communities we serve."
Watch the clip below, via CBS:
— —
>> Follow Andrew Kirell (@AndrewKirell) on Twitter
Have a tip we should know? [email protected]