Stark Contrast As Obama And Romney Address July Jobs Report, Rising Unemployment Rate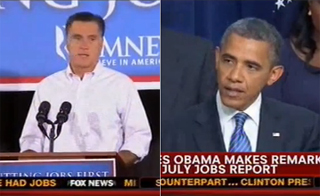 On Friday, both Republican presidential candidate Mitt Romney and President Barack Obama addressed the July jobs reports which showed that employers added more jobs than expected but unemployment rose by one tenth of a point as more workers left the workforce. The stark contrast between the tones of their addresses was striking as a high-energy Romney addressed a fired-up crowd while Obama struck a somber note to a silent crowd.

RELATED: Stronger Than Expected Jobs Report Shows 163,000 New Jobs Added In July, Unemployment Up To 8.3%
Romney addressed a cheering crowd in Nevada on Friday as he talked about how people in the Silver State were struggling under America's persistently sluggish economic recovery.
"These numbers are not just statistics," said Romney. "These are real people really suffering – having hard times. 23 million Americans out of work or stopped looking for work or under employed. 23 million."
Romney said that the 42 months is the "longest time we've had unemployment above 8 percent in American history."
"This is an extraordinary record of failure," said Romney.
Romney went on to address his five-point plan which began with a path to energy independence. Romney said that by the end of his second term, he would make America energy independent, but he was interrupted by the cheering crowd after he said "the end of my second term."
But when Fox News transitioned to President Obama, who was also addressing the July jobs report in the Washington, the tone became far more somber.
"Let's acknowledge, we've still got too many folks out there looking for work," Obama told a crowd at the Eisenhower Executive Office Building. "Not only to reclaim all the jobs that were lost during the recession, but also to reclaim the kind of finial security that too many Americans have felt was slipping away from them for too long."
"We knew, when I started in this job, that this was going to take some time," Obama continued. "We haven't had to come back from an economic crisis that was this deep or this painful since the 1930s. But we also knew that if we were persistent – if we kept at it and kept working – that we'd gradually get to where we need to be."
Obama went on to say that there is no way to get to "where we need to be" if America goes back "to the policies that got us here in the first place." He followed by saying that there needs to be a raise in taxes to pay for infrastructure projects and to guarantee that small business owners and middle class Americans do not see a tax increase.
Watch both candidates address the jobs numbers below via Fox News Channel:
> >Follow Noah Rothman (@Noah_C_Rothman) on Twitter
Have a tip we should know? tips@mediaite.com