Starstruck Obama Fangirl Hilariously Dishes About Her Viral Presidential Photo-Op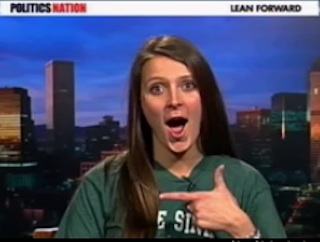 University of Colorado student Madalyn Starkey, whose star-struck photo with President Obama went viral on Twitter, dished to Al Sharpton about her fateful encounter, which it turns out was a genuine surprise — and "sweeeeet!"
RELATED: 'Yogurt Girl' Spills To Matt Lauer About Spilling Yogurt On Obama
"I just went on a date with my boyfriend before the Michael Franti concert (editor's note: where else?!). We couldn't decide which restaurant to go to, we've been to The Sink like three times that previous week, so we were like 'ah whatever, we'll go again,' so we sit down, order our drinks, and literally like three minutes later the security guards come in and said 'attention, attention, the president is is coming, if you don't want to meet him, come to this back room so we can metal detect you.'" Starkey explained. "So we were like 'Sweeeeet! The president! Let's go!' So they took away all of our silverware, forks, knives, and we just sat there and waited, and we were not allowed to stand up, I don't know what the situation was on that, so yeah, it was incredible, it was the anticipation."
Sharpton asked Starkey what was going through her mind when President Obama walked in.
"It just like didn't even seem real, I have seen him on tv, and now he is at the same restaurant with me with only 30 other people? And we called him 'the casual Obama' because he took off his jacket, and was just being all the charismatic guy he is. It was incredible."
"What was the exchange like?" questioned Sharpton.
"That was a bit awkward," Starkey revealed. "He went over to everyone's table first off, and finally the paparazzi like cleared out of the way and he got to our table, and the only thing I said to him was 'Can I get a picture,' and he said 'stand up,' we took the picture, and then literally all I said was, 'you smell good' — and that was the end of the conversation. Because I just get so starstruck that I was just like –ahhh! — I couldn't say anything."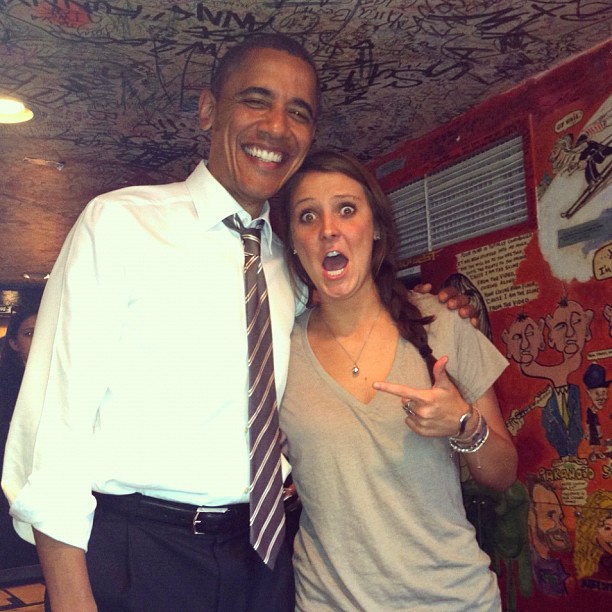 Starkey explained that once she took the picture with Obama, she posted it on Twitter to her 50 followers and "it got retweeted and retweeted, and my phone has not stopped blowing up. I ruined the whole date with my boyfriend."
Sharpton asked if she heard another student that dropped yogurt on him.
"Yeah, apparently it was an 'accident,'" Starkey air-quoted facetiously.
Watch Starkey's interview with Sharpton below via MSNBC:

Have a tip we should know? tips@mediaite.com