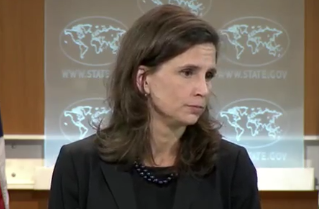 After it was revealed that the State Department video of a 2013 press briefing had apparently been edited to remove a damaging admission of falsehood, the State Department claimed Tuesday that the omission was due to a glitch.
In December of 2013, Fox News' James Rosen pressed then-spokeswoman Jen Psaki about whether the State Department's policy was to lie in order to preserve the secret Iran negotiations. Psaki strongly implied that it was, saying that there was a need to preserve the privacy of sensitive negotiations. But when Rosen went back to grab that clip years later, he found it has been edited out of the video.
"The report that the video of a briefing from a couple years back with Jen Psaki was edited to remove questions and her answers about when the Iran negotiations began; what's going on here?" asked the Associated Press' Matt Lee at the end of Tuesday's briefing.
"There was a glitch in the State Department video," press office director Elizabeth Trudeau responded. "When Fox flagged it for us, we actually replaced it with a video from DVIDS, which is the military repository where a lot of news media gets its video. The whole video was there, and we also annotated it on our YouTube channel."
"Yeah, but that – I mean, a glitch?" asked Lee. "That just seems awfully strange and coincidental…"
"Yeah. The transcript was always up, though, and the video existed on other channels" she responded.
Trudeau promised the State Department was looking into the deletion. "We're looking into it. Genuinely we think it was a glitch." She added that they had not found any other videos that suffered the glitch.
Here's a video of the glitch in question.
It's a rather odd glitch, adding a white flash of light to obscure the passage of time and starting just before and after Rosen's line of questioning. Watch above, via the State Department.
[Image via screengrab]
——
>>Follow Alex Griswold (@HashtagGriswold) on Twitter
Have a tip we should know? tips@mediaite.com