Stelter: Pilot Who Claimed He Flew Brian Williams's Helicopter Withdraws His Account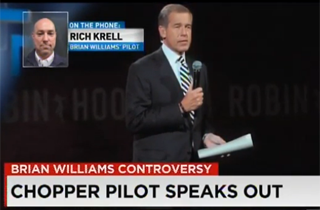 In an admission that will turn Brian Williams' Iraq War story even murkier, the pilot who told CNN that Williams' account was correct suddenly recanted his statement, saying he was now "questioning" his memories.
CNN's media reporter Brian Stelter, who initially reported that Rich Krell piloted the helicopter that Williams was on and that it did indeed get hit by small arms fire, took full responsibility for getting the story wrong after many soldiers contradicted Krell's claims.
"This week, I've been urging Brian Williams to be fully transparent about what happened on his embed in Iraq and about why his story evolved over the years," he said. "I'm going to practice complete transparency."
According to Stelter's account, he attempted to practice due diligence after Krell reached out to him with his account, verifying his identity and, most crucially, finding a photo of him and Williams together from Iraq. He also reached out to an NBC contact to verify Krell's account off-the-record. "Suffice to say, the reply gave me more confidence in Krell's account," he wrote.
Stelter then published a CNN Money article with Krell's claims, leading to Jake Tapper interviewing Krell on The Lead. Soon afterwards, after many soldiers disputed his claims, a pilot told The New York Post that he had flown Williams' helicopter, not Krell, and that their aircraft never came under fire.
With so many contradictory accounts, Stelter asked Krell to call him. Krell soon replied with the following text:
"Good morning. The information I gave you was true based on my memories, but at this point I am questioning my memories that I may have forgotten or left something out."

He said, "For the past 12 years I have been trying to forget everything that happened in Iraq and Afghanistan; now that I let it back, the nightmares come back with it, so I want to forget again."

He concluded, "The men in that article deserve respect. Please understand."
"Bottom line: this pilot is revising his story — and, because of that, I'm revising mine," Stelter concluded.
Watch Stelter's report from CNN, below:
[CNN Money]
[Image via screenshot/CNN]
—
>> Follow Tina Nguyen (@Tina_Nguyen) on Twitter
Have a tip we should know? tips@mediaite.com