Stephanie Cutter: 'Absolutely,' Americans Are Better Off Than They Were 4 Years Ago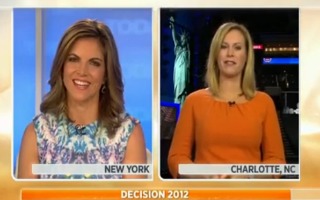 On Sunday, Maryland's Democratic Gov. Martin O'Malley told CBS News that it Americans are not better off than they were prior to the economic collapse of 2008 under President George W. Bush. Stephanie Cutter, President Barack Obama's deputy campaign manager, appeared on NBC's Today on Monday where she pushed back against that assertion, saying that Americans are measurably better off today than they were four years ago.

RELATED: Democratic Governor Tells CBS We're Not Better Off Than Four Years Ago
"Are we better off today than we were four years ago when President Obama was elected," Today host Natalie Morales asked Cutter.
"Absolutely," Cutter replied. "In the six months before the president was elected we lost 3.5 million jobs. Wages had been going down for a decade. The auto industry was on the brink of failure. Our financial system – this was just about the time we were seeing banks go under."
Cutter said that 4.5 million jobs have been added under President Obama's administration and the automotive industry is more stable than it was when the president took office. Cutter acknowledged that Americans want to know how the president will continue to grow the economy, "and that's what this week is about."
Morales asked how Obama's second term would be different from the first.
"There is a piece of legislation sitting before Congress right now, the American Jobs Act, which the President sent up there a year ago that would create jobs right now," Cutter replied. "We need a willing partner on the other side in the Republican party – we don't have one right now."
Cutter said that Mitt Romney's economic proposals would "crash our economy" and "punish the middle class."
Morales asked how "politics as usual" would be any different from the past four years. "I think the American people need to decide that," said Cutter. "They're going to decide that on November 6." She went on to say that the present state of inaction on Capitol Hill was due to Republican intransigence on the issue of rising taxes on wealthier Americans.
Watch the segment below via NBC:
> >Follow Noah Rothman (@Noah_C_Rothman) on Twitter
Have a tip we should know? tips@mediaite.com