Stephanie Cutter Clarifies Her Comment For Wolf Blitzer: Romney Is A Liar, Not A Felon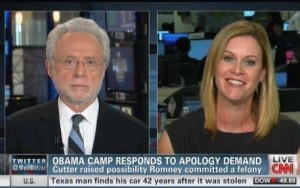 On Monday, The Situation Room host Wolf Blitzer spoke with Stephenie Cutter, the Obama staffer who made headlines after floating the possibility that Mitt Romney is either a liar or a felon when it comes to explaining his timeline at Bain.
The show aired a clip of Cutter's comment — which she originally made during an Obama campaign conference call — and a response Romney gave earlier today on Fox & Friends. (It's worth noting that Romney is specifically responding to a different but related comment by Rahm Emanuel in the clip, not directly to Cutter's claims.)
RELATED: Bob Schieffer Confronts Obama Staffer Who Said Romney Either Lied Or May Have Committed Felony
Cutter reiterated her original comment for Blitzer, saying that "either Mitt Romney was attesting to something that is true to the SEC — that he was the CEO, chairman, president and sole owner of Bain Capital — or he's misrepresenting his time at Bain Capital to the American people. Because both of those things can't be true."
She later added further clarification that "we're not accusing Mitt Romney of committing a crime here; we're actually saying that he's misrepresenting his time at Bain to the American people." She cited reports from independent news sources showing Romney received a salary and appeared in promotional materials for Bain during a time he has described as being his leave of absence from the company. His explanation, she added, simply "doesn't add up."
When asked if she regretted having used the term "felony," Cutter responded that she certainly did not. "It's a fact," she said, that lying on federal documents is a felony. Which is, again, not what she is claiming Romney has done.
Watch, via CNN:
Have a tip we should know? tips@mediaite.com