Stephanopoulos and O'Reilly Talk Health Care on ABC's Cable Outlet: Fox News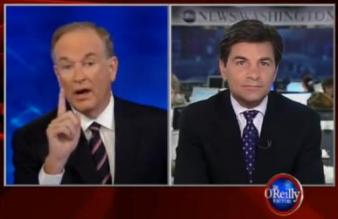 ABC News anchor George Stephanopoulos appeared last night on Fox News' The O'Reilly Factor to talk about health care.
So that's what they talked about – but the question is why is an ABC anchor going on a Fox News program? Maybe because nearly four million people watch it every night.
The segment included a comment by Bill O'Reilly that seemed to echo a sentiment written about here yesterday – getting Pres. Obama to come on The Factor:
He can com on this program, as I just said, he can come on your program, he can hold up a chart, he can say this is what we want to do. He hasn't done it. He's given speech after speech after speech and I don't know what he's talking about. Now last night I knew what he's talking about it.
It wasn't Stephanopoulos' only appearance with a Fox News personality yesterday. He also stopped by Sean Hannity's radio show.
Stephanopoulos is working to make This Week #1 on Sundays, in a fierce competition with current leader, NBC's Meet the Press. These appearance to appeal to a new base of viewership can only help. And for the Fox hosts who welcome Stephanopoulos – well it certainly wouldn't both them if NBC – a frequent target of their attacks – loses their long-standing top status on Sunday mornings.
Other ABC personalities come on Fox News as well – Senior Political Reporter Rick Klein (our guest on Office Hours yesterday) is a frequent guest on Shepard Smith's Studio B.
Meanwhile some ABC anchors have taken it a step further – as TVNewser reported yesterday, ABC's John Stossel is leaving the network for FNC/FBN.
Check out the clip around the four-minute mark when O'Reilly seems to slip and almost call himself a Republican – before going with "Independent":


—–
» Follow Steve Krakauer on Twitter
Have a tip we should know? tips@mediaite.com