Stephanopoulos Apologizes for Not Disclosing $50K Donation to Clinton Foundation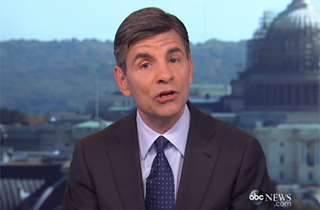 George Stephanopoulos was forced to apologize today after it was revealed that he donated roughly $50,000 to the Clinton Foundation in the past two years, and did not disclose them while reporting on the Clintons' activities.
In his statement, sent to Politico, the ABC anchor admitted that in 2013 and 2014, he donated $25,000 per year to the Clinton Foundation, run by his former boss Bill Clinton and current presidential candidate Hillary Clinton. "I thought that my contributions were a matter of public record," he said, pointing to tax filings that disclosed his contributions. "However, in hindsight, I should have taken the extra step of personally disclosing my donations to my employer and to the viewers on air during the recent news stories about the Foundation. I apologize."
In recent years, and the past few months in particular, critics of Stephanopoulos have demanded that he disclose his relationship to the Clintons before reporting on them — he served as the White House Communications Director and a senior policy advisor during the Clinton Administration — and these revelations will likely vindicate their concerns.
But the real kick in the teeth comes from this interview he conducted last month with Clinton Cash author Peter Schweizer, in which Stephanopoulos vigorously challenged Schweizer's assertion that as Secretary of State, Hillary Clinton would do favors for countries that made multimillion dollar donations to the Clinton Foundation.
For now, ABC News is standing by Stephanopoulos:
As George has said, he made charitable donations to the Foundation to support a cause he cares about deeply and believed his contributions were a matter of public record. He should have taken the extra step to notify us and our viewers during the recent news reports about the Foundation. He's admitted to an honest mistake and apologized for that omission. We stand behind him.
UPDATE — 12:45 p.m. ET: Stephanopoulos' apology was also added as a disclosure note to an ABC digital article about Clinton Cash author Peter Schweizer's appearance on This Week.
[Image via screenshot/ABC]
— —
>> Follow Tina Nguyen (@Tina_Nguyen) on Twitter
Have a tip we should know? tips@mediaite.com