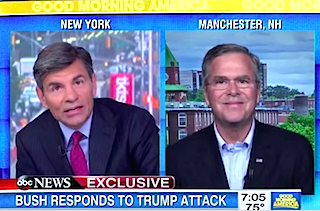 Jeb Bush got his chance to respond to the latest attack from Donald Trump — that he "should really set the example by speaking English while in the United States" — during an interview George Stephanopoulos on Good Morning America Thursday. Bush said Trump is "trying to insult his way into the presidency" and that it's "not going to work."
"People want an uplifting hopeful message, people come to this country to pursue their dreams," Bush continued. "Sometimes they start without speaking English, but they learn English and they add vitality to our country."
Acknowledging that the United States is a "diverse country," Bush said that "we should celebrate that diversity and embrace a set of shared values and Mr. Trump doesn't believe in those shared values. He wants to tear us apart, he doesn't believe in tolerance, he doesn't believe in the things that have created the greatness of this country."
"I mean this is a joke," Bush said of Trump's reaction to his decision to answer questions in both English and Spanish. "That's the goodness of America, that is the kind of America we want," he added. "So part of it is you laugh because it's so bizarre, but it is hurtful for a lot of people and Mr. Trump knows this, he's appealing to people's angst and their fears rather than their higher hopes."
Later, Stephanopoulos asked Bush if he would still support Trump in a general election should he become the nominee.
"Of course," Bush replied. "We need to be unified, we need to win and I think Mr. Trump ought to figure out a way maybe to lessen the divisive language, the hurtful language and talk about the aspirations of the American people rather than trying to prey on their fears."
So far, Trump has not made the same hypothetical commitment to Bush. But reports indicate that he is expected to sign a GOP loyalty pledge this week that would, at least in theory, prevent him from running a third-party campaign agains the eventual nominee.
Watch video below, via ABC:

ABC Breaking News | Latest News Videos
[Photo via screengrab]
— —
>> Follow Matt Wilstein (@TheMattWilstein) on Twitter
Have a tip we should know? [email protected]