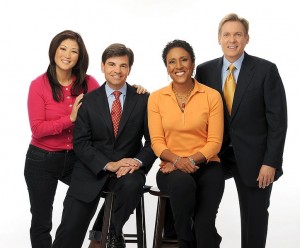 Sunday morning on This Week, George Stephanopoulos announced his move to Good Morning America tomorrow, bright and early. At the end of today's broadcast, Stephanopoulos took a moment to address his job switch, thanking the viewers and noting that he would continue as host "until a successor is named."
As previously reported by Mediaite, accepting the GMA position meant that Stephanopoulos would vacate the This Week job, a trade-off that seemed to initially be a question mark for the Washington-savvy former Clinton staffer. For now, it seems Stephanopoulos can have his cake and eat it, too, at least on a temporary basis.
Below is a transcript of the host's remarks, followed by the video clip:
That's our show for today.

You may have heard that tomorrow I start at "Good Morning America." It's going to be a great challenge for me, and I hope you'll tune in there too.

My only regret as I head to New York is that I won't be able to continue our Sundays on "This Week" for very much longer. As all of you know, this has been a special and important forum for discussing politics and public affairs ever since David Brinkley began the program almost thirty years ago. It's been a big part of my life too — and an honor to anchor these last seven years.

I'll continue until a successor is named, so for now, I'll just say thanks for sharing part of this Sunday with us.

We'll see you next week.
Have a tip we should know? tips@mediaite.com