Stephanopoulos Corners Pence over LGBT Discrimination: 'It's a Yes or No Question!'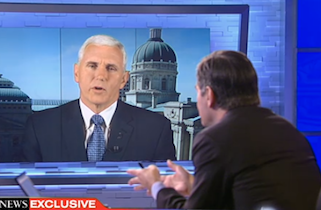 This Week host George Stephanopoulos absolutely grilled Indiana Governor Mike Pence (R) over the newly-signed "religious freedom" bill, which critics maintain would allow businesses to refuse services to LGBT customers. Pence argued that the bill's intentions had been misrepresented in media coverage, and insisted he would not change the bill, though he did continue to say he would "clarify" it.
However, Pence refused to answer two "yes or no" questions posed to him by Stephanopoulos over the potentially discriminatory ramifications of the bill, including whether it would allow a florist to deny services to a gay couple, as its supporters maintain.
"There's been shameless rhetoric about my state and this law and its intention all over the internet," Pence said. "People are trying to make it about one particular issue, and now you're doing that as well."
Stephanopoulos asked the question several more times. "It's a simple yes or no question," Stephanopoulos said.
"The issue here is: is tolerance a two-way street or not?" Pence said. "There's a lot of talk about tolerance in this country having to do with people on the left. Here Indiana steps forward to protect the constitutional rights and privileges of freedom of religion for people of faith in our state, and this avalanche of intolerance that's been poured on our state is outrageous."
RELATED: Charles Barkley to NCAA: Pull Final Four from Indiana over 'Religious Freedom' Bill
Pence reiterated that he will not make LGBT citizens a protected class. "It doesn't have anything to do with this law," he objected. "This isn't about individual rights or preferential rights for anyone."
Pence said the business industry backlash, which already includes the collapse of a deal between Indianapolis and Angie's List, was due to the "gross mischaracterization" of the law. "Frankly, some of the media coverage of this has been shameless and reckless," Pence said.
Stephanopoulos finally asked if Pence thought it should be legal to discriminate against gays or lesbians. "Come on!" Pence responded. "Hoosiers don't believe in discrimination." Stephanopoulos reiterated the question. "You're trying to make this issue about something else," Pence said. "I signed the bill. We're going to explain to people who don't understand it."
Watch the clip below, via ABC News:

World News Videos | US News Videos
[Image via screengrab]
——
>> Follow Evan McMurry (@evanmcmurry) on Twitter
Have a tip we should know? tips@mediaite.com